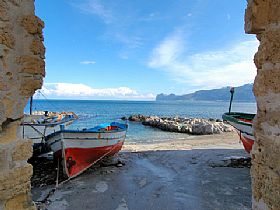 Part of Italy yet distinctively different, Sicily embodies the temperament and color of southern Italy blended with the exotic flairs of northern Africa and the Orient. The island was historically a crossroads that bridged the cultures of Greece, Europe, Byzantine and North Africa. The mix is intense and sensual with a rich cultural legacy and a beguiling history.
Named for the ancient Siculi people who emigrated there from Lazio, its history stretches back to the Phoenicians, but it was the Greeks who made a decisive mark on Sicily building cities in the 6th and 5th centuries BC. The ruins of their great temples and theatres continue to amaze visitors many millennia later.
The Arabs brought trade, farming and mining to the island, the Normans imbued it with artistic and architectural splendor, and the Spanish brought a unique version of the Baroque style. In short, Sicily is unique. It retains an Arabic-tinged dialect, uses spices, almonds and raisins in its dishes, similar to Moroccan meals, and basks in its sunny setting like the wealthy ancient Romans who were drawn here.
The landscape is just as varied – craggy coastlines, sandy beaches, rolling hills and high mountains are all found here. Almonds, pistachios, citrus and vineyards flourish in the fertile, volcanic soil. This is where Marsala wine comes from, along with other heritage vintages.
Its pinnacle is Mt. Etna, Europe's highest and most active volcano that is still prone to bouts of activity. The resort of Taormina has attracted tourists since ancient times; today's sandy beaches and swanky restaurants still draw crowds, as do the incredible historic ruins it is famous for. Cities like Catania and Palermo pulse with energy, while smaller towns exude a slice of island life. There are rural hamlets, national parks and vineyard-line hills to enjoy, too.
Sicily is famous for its seafood and its sweets. Enjoy a cannoli (or three!), the fruit-spiked cassata cake, or a granita; gelato is a must – it was born here!
The island is lapped by three seas, is dotted with a string of islands, and is home to five UNESCO World Heritage Sites. With so much to see, taste, bask in and enjoy, it's no wonder that Sicily is considered to be the pearl of Italy!
Been there? Done that? Share your experience and tips!
Haven't visited yet? Have questions about Sicily? Ask them here!