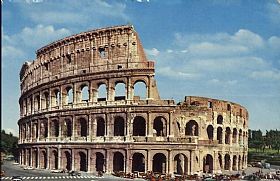 Lazio is the region in central Italy that is the center of world history - where Rome is located, and where ancient peoples once flourished. The Latin name Latium indicated the area for many millennia. The region is much larger than its famous capital city, where long before Romulus and Remus were mythically born, the Etruscans and Sabines lived. The region stretches across a large swath, from the Mediterranean Sea to the Apennine range, taking in lakes, rivers, hills, and plains. It touches Tuscany and Umbria, Abruzzo and Campania regions.
While a visit to Rome is a must for any traveler, the surrounding Lazio region will surprise you with its varied landscapes and history.
For seaside enthusiasts, you'll have a choice of sandy beaches and hidden coves. The beautiful national park of Circeo is a nice promontory with unspoiled seas. The legendary Riviera di Ulisse around Gaeta is marked by schisms, sea caves and coves, while the quaint town of Sperlonga give the best of Old World atmosphere and nice beaches. Seafood is of course abundant in this part of the region. Lively Ostia Lido has beach clubs outfitted with colorful umbrellas and cabanas, but the town itself offers a great vibe and excellent eateries.
Prehistoric people dwelled throughout Lazio, so history buffs will be in heaven at sites like Cerveteri and Ostia Antica. There are many Etruscan spots in northern Lazio to fuel your fascination. East of Rome around Rieti is a land of myth and mystics, where the Italic Sabine tribe lived and the famed Abbey of Farfa was founded by the Benedictines. South of the capital are the Castelli Romani, the upscale hills that became popular during the Renaissance, dotted with splendid villas, including the papal palace. To the north are volcanic lakes, Bolsena, Bracciano and Vico.
The region is rich is tradition with age-old festivals and religious observations still going on year-round. There are opulent gardens to enjoy, as well - from Tivoli to Villa d'Este, to the Papal Gardens (recently opened by Pope Francis) and the magical Ninfa Garden, you'll have lots of spots to enjoy the park-like settings.
Rome, of course, is the heart of Lazio, with its millennia of history, art and architecture, along with its cosmopolitan life and shops. Enjoy a drink on a piazza and immerse yourself in la dolce vita!
Been there? Done that? Share your experience and tips!
Haven't visited yet? Have questions about Rome and Latium? Ask them here!