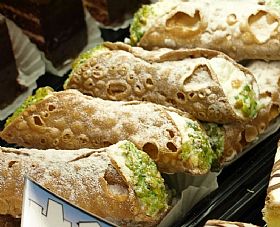 Cannoli are probably the best-known sweet from Sicily. You can find them in Italian neighborhoods and pastry shops around the world. While the shells are delicate to make and require a metal tube, prepared packaged shells are common not just in Italy but in specialty food shops all over. The filling is a delectably creamy confection - no wonder cannoli are so sought after and devoured!
FILLING FOR CANNOLI
2 cups fresh ricotta cheese
¾ cup powdered sugar
½ teaspoon vanilla
½ cup mini chocolate chips or chocolate shavings
Zest from one orange
¼ teaspoon ground cinnamon
(optional ingredients for the filling include candied fruit or chopped pistachios)
With a mixer, whip the ricotta, powdered sugar and vanilla together. Fold in the other ingredients.
Use a pastry bag to fill cannoli shells or pastry cups with the filling. Decorate with candied fruit pieces (orange or cherries work well), mini chocolate chips, or chopped pistachios.
Cannoli filling is very versatile – you can spread it between sugar cookies, or slather it on a layer of pound cake or sponge cake for an fast and easy dessert.
Side note: Pistachios are common in Sicilian desserts, because they are grown on the island, in the area around Bronte.
If you want to try making the shells at home, here's a good recipe that is close to ours, but we would use Marsala wine instead of vinegar.
Been there? Done that? Share your experience and tips!
Haven't visited yet? Have questions about Cannoli? Ask them here!