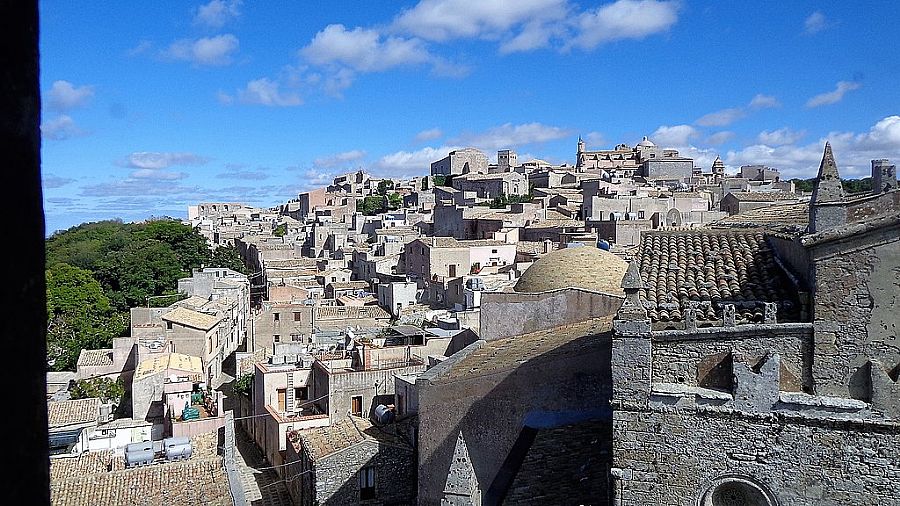 In northwest Sicily, the pretty city of Erice sits inland on a hill near Trapani, looking at the sea with Monte San Giuliano looming above it, and seems suspended between the two. It is easy to see why it is on the list of the "borghi piu' belli d'Italia" (most beautiful villages in Italy), with its castles, palazzo-studded streets, historic monuments, beautiful churches, and views. There is a cable car from Trapani, making it a wonderful, easy day trip. Set on a rocky spur, there are amazing views from the town of the valley, the sea, and the mountains beyond.
The ancient founding of the city gives it the name Eryx, the mythological son of Aphrodite. Thought to be founded by colonists from Troy, it was contested by Siracusa and Carthage, then conquered by the Romans in 244 BC. It was ruled for a time by the Arab's, then the Normans. It was named San Giuliano, and under Frederick II in 1241 became a vast territory of contradas and feudal estates given to the empire's upper classes to administer. From Trapani across to Castellammare and all the internal lands and coast were part of that holding. It was governed by the Spanish crown, underwent revolts, uprisings, and plagues, and fell under the Bourbon dynasty. In 1934, it re-took its historic name of Erice.
There is much to see here. The Porta Carmine, with its cyclopean wall; the Castello di Venere, a Norman stronghold built over Roman temple ruins; the Torri e Giardino Balio (towers and gardens); and the cathedral, referred to as Chiesa Matrice, are all worthy sights to visit.
Wander the medieval town center, take in the palazzi (mostly lined along Via San Francesco and Via Vittorio Emanuele), the piazzas, and the old world ambiance, unchanged with time. There are dozens of churches, the old city gates, and pretty details.
Erice is known for its Good Friday procession, like many in Sicily, that re-enact the Way of the Cross in costume through the ancient streets, started in the 1600s.
Taste the marzipan, the genovesi sweets which are filled with hot custard, and the distinctive green liquore di Monte Erice, distilled according to an ancient recipe started in a monastery and handed down generation by generation. Marsala dessert wine, and the area's ceramics and weavings are also nice souvenirs.
Photo Credit: Effems, CC BY-SA 4.0, via Wikimedia Commons
Been there? Done that? Share your experience and tips!
Haven't visited yet? Have questions about Erice? Ask them here!
Explore nearby towns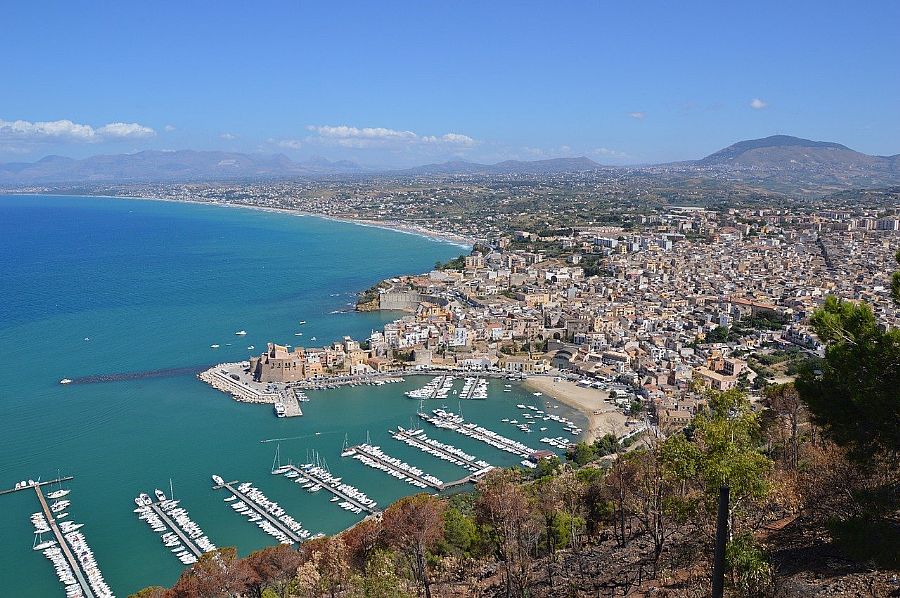 Stretching out below Monte Erice in the northwest of Sicily, Trapani provides a variety of attractions and allures that will satisfy every taste.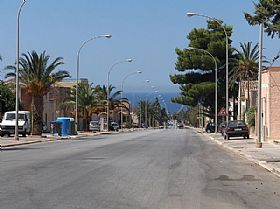 One of Sicily's most beautiful seaside spots is the bay where little Casteluzzo lies.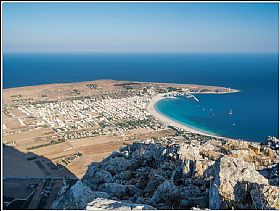 Built on a cape on Sicily's north coast, San Vito Lo Capo is a renowned summer destination.