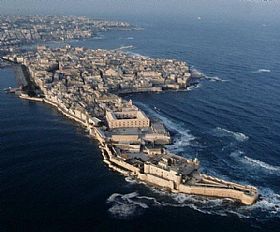 The city of Siracusa was the most important city Magna Grecia for a period and declared by Cicero to be it's most beautiful, as well. The great city-state had a population of 300,000 at its peak and surpassed Athens in the Peloponnesian War. For a few centuries Syracuse enjoyed unrivaled economic, political and military power. It was mentioned in the Bible in the book of Acts as a location that St. Paul stayed on his way to Rome. Today, it's still a beautiful spot littered with remnants of its ancient past, making it a wonderful city to explore.
The archeological area of Siracusa had loads of monuments, including temples, a theater, an amphitheater, and a necropolis. The wealth of artifacts found during excavations are on display in the city's various museums, most notably its Archeology Museum and the municipal museum in Municipio building. Ancient history surrounds you during a visit to Siracusa. Visit the historic center located on an isthmus where a mix of Medieval and Baroque provide a delightful blending in the narrow streets. Even here, the ancient past creeps up, like at the Fonte of Arethusa, a mythical spring-fed fountain tied to legend and the Temple of Apollo, a 7th century BC site that was the first great Doric temple in Sicily.
The beautiful baroque Duomo is dedicated to St. Lucy who was born and martyred here and occupies the site of a former temple, incorporating some of the columns into its design. The feast day of St. Lucy is December 15 and is an important festa here. Across from it is the fanciful Palazzo Benevantano, a riot of splendid Sicilian Baroque. Wander the area and enjoy the shops, cafes and colorful morning market that sells fruits and vegetables and other goodies from the fertile fields outside town.
On the point of the historic center's "island" is the Castello Maniace, a stalwart presence here since it was built by Frederick II in 1239. There is the unusual feature of the Byzantine Miqwe, Jewish baths, that can be seen at the hotel Residenza alla Giudecca. The Galleria Regional di Palazzo Bellomo is the city's best art museum with a nice selection of sculptures and painting, including a Caravaggio. There are many beautiful buildings to see as you wander the historic center. The city has a gorgeous port flanked by palms and palazzi. All told, Siracusa is a place to explore the past but enjoy the lively atmosphere and abundant eateries and cafes of the present.
Been there? Done that? Share your experience and tips!
Haven't visited yet? Have questions about Siracusa? Ask them here!
Explore nearby towns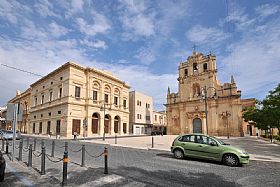 An Ionian seaside town, Avola is a mix of old and new.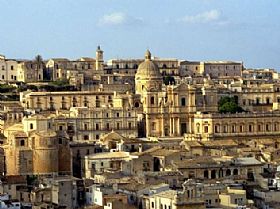 One glance at Noto and you'll see why it's referred to as "the pearl of Sicily".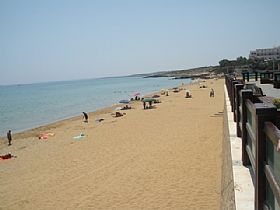 Lido di Noto is, as the name suggests, the beach of Noto.