Portopalo di Capo Passero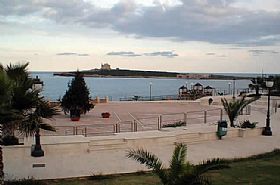 At the southernmost point in Sicily, Portopalo di Capo Passero is a pleasant old fishing village. There are sandy beaches and reefs punctuated by little coves to offer something for everyone - for sunbathers, kids, stronger swimmers, snorkelers and divers, and those who want to fish.
The town was historically tied to Siracusa, dating back to the ancient Greek epoch. But its primary industry was tuna fishing, packing and exporting, which it has done for centuries. The remains of the old tonnara stand as testimony of this ancient trade that is still an important one today. There is also abundant farming, with melons, tomatoes, citrus and vegetables being important crops.
The town is small but pleasing, with 4000 inhabitants and spectacular seascapes. You can enjoy both sunsets and sunrises here that are breathtaking. There are restaurants, shops and seafront cafes. The fancy Castello Tufari is an ornate mansion built at the turn of the last century that looks like a storybook setting.
The Forte of Portopalo is the 16th century fortress built to house the soldiers and artillery that protected against pirate raids. This point was especially prone to attacks, as Turks and pirates put in here to replenish their water and provisions. Next to the square squat Fortress is the tall lighthouse that protects sailors
The Island of Capo Passero sits just 250 meters form the coast and covers 37 hectares. There is an old fortress and some old tuna fishing warehouses where fishermen stored their nets and equipment. Today it a refuge for birds and marine life who love the undisturbed natural landscape. The smaller island, Isola delle Correnti, is tiny and connected to the mainland by a strip of rock. There is an abandoned lighthouse and light keeper's dwelling. This is a popular spot for windsurfing.
Portopalo is near Pachino, and within reach of the Baroque towns of Noto and Avola, along with the others that are part of the UNESCO World Heritage Site. Syracuse is up the coast as a fantastic day trip. The beaches and waters here are clean and some of the best in Sicily.
Been there? Done that? Share your experience and tips!
Haven't visited yet? Have questions about Portopalo di Capo Passero? Ask them here!
Explore nearby towns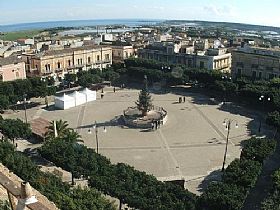 At the southern end of Sicily, the Pachino promontory is washed by both the Ionian and Mediterranean Seas.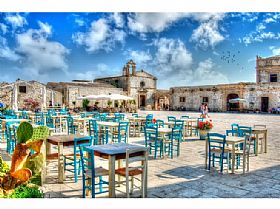 Marzamemi has an exotic flair to it.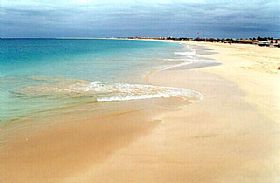 This tiny town is officially part of the city of Ispica, but is set apart on a long stretch of seacoast.