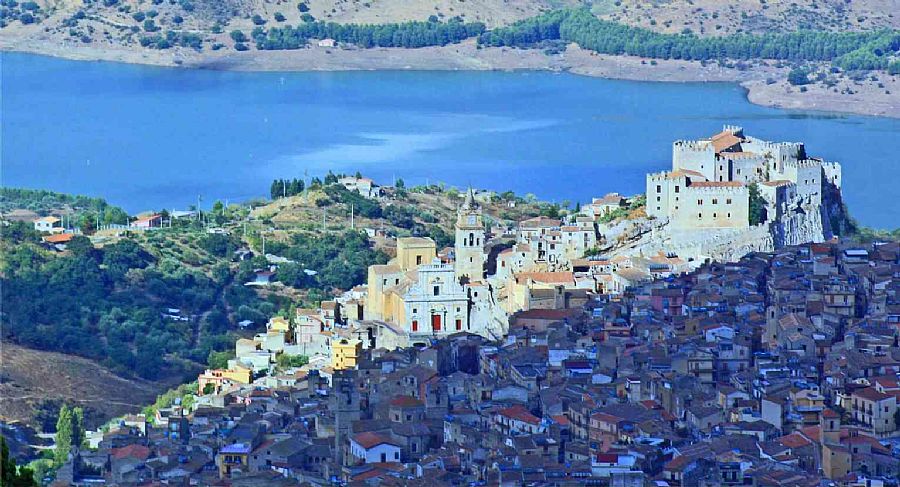 This lovely town in Sicily is a stunning surprise, located half-way between Palermo and Cefalu, resting in the hills above the Gulf of Termini Imerese. Its most distinguishing sight is the massive castle that sits high on the rock, its bastions and walls appearing like an extension of the outcropping below it. Built in the 11th century, it is one of Sicily's most intriguing and best preserved castles. Its worth the trip to Caccamo just to see and tour it, and look out from its high crenellated summit to survey the vast landscape of rolling hills below. It was a Norman keep and a regal noble residence in the Middle Ages and ensuing periods.
Caccamo itself is shrouded in mystery. Its exact origins are unsure, though it is said that it was settled by Carthaginian soldiers who fled and sought refuge on this rocky hill above the San Leonardo and Torto rivers. The castle has been a witness to various epochs of history - including the Greeks, Byzantines, Normans and Saracens. Around town you'll see Greco-Byzantine and gothic monuments and intriguing architectural details scattered throughout the lanes. There are many beautiful overlooks to scan the undulating hills towards the sea.
Piazza Duomo is home to the town's cathedral, dedicated to St. George. It is a frenzy of high baroque that draws the eyes heavenward to the decorated barrel vault ceiling and dome. The church of San Benedetto alla Badia is also done in baroque style, but the attraction is earthly rather than heavenward - specifically, the highly decorative maiolica floor paving. It is a stunning sight.
The area is known for its agricultural products: almonds, grains, meat and cheeses, and olives. A beautiful old world craft is also still practiced here, the lovely hand-made lace is delicate and delightful.
There are festivals throughout the year, most notably a food festa dedicated to the locally made sausage in October, and the Castellana, a costumed courtly parade held every July.
Been there? Done that? Share your experience and tips!
Haven't visited yet? Have questions about Caccamo? Ask them here!
Explore nearby towns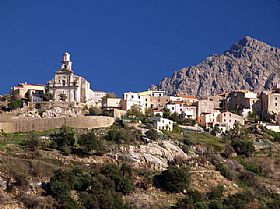 Sitting in the hills, Montemaggiore has a beautiful setting among mountains and rivers, as its name implies.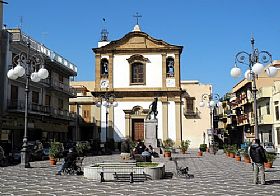 In the Palermo province near the city but away from the traffic and bustle, Casteldaccia is near the beautiful cape known as Capo Zafferano.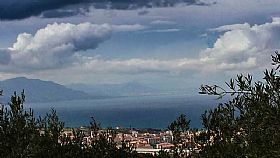 On Sicily's north coast, this seaside resort is more than just a beach, it is also a great base for exploring the mountains and nearby Cefalu'.