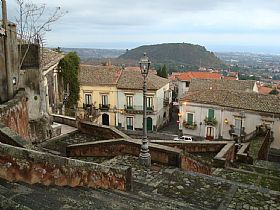 Sitting in the hills on the lower slope of Mt. Etna, Trecastagni has beautiful views. The surrounding countryside is marked by small volcanic cones and the lofty peak of Etna looms above. But it's the especially panoramic setting that is the highlight of Trecastagni - it rests right where the hills slope down towards Viagrande, opening up the view to stretch to the Gulf of Siracusa and to Calabria on mainland Italy. The best of summertime activities and winter skiing can be enjoyed here.
The old town retains its city gate as an entrance and welcome to the town, opening to streets lined with once-grand palaces and different-styled churches. Since its name means "three chestnut trees" the town naturally celebrates its primary product with a festa every October. It is just 15 kilometers to the beaches and about 30 kilometers to the ski slopes. They have a festival dedicated to the Sicilian "carretto" - highly decorative horse- or mule-drawn carts that once transported goods into villages, from which vendors would sell their wares, a big festival on December 6 to honor Trecastagni's patron saint, San Nicola (St. Nicholas). There is a line-up of summer entertainment, and the town's historic theater, the Teatro Comunale, still hosts shows and plays.
The former Franciscan convent has a beautiful internal cloister outlined with arches with its old water well still standing in the center. The monastery is now home to a museum. The Sanctuary of the Martyrs was built in 1662 and has drawn pilgrims to town every May since then, the devout leaving votive offerings behind, making this church interesting for its enormous collection of ex-votos. The church of San Nicola, dedicated to the patron saint, was built in the 1400s of volcanic stone, with modifications through the years, especially after an earthquake in the 1600s. It has excellent views from the top of its monumental staircase. One of the town's interesting historical gems is the round stone-built windmill, a curious structure that was probably erected in the 1500s.
Trecastagni boasts a population of more than 10,000 people, so there are plenty of shops, grocers, cafes and restaurants to provide for what you'll need. It is next door to Viagrande and a short distance from Acireale on the coast.
Been there? Done that? Share your experience and tips!
Haven't visited yet? Have questions about Trecastagni? Ask them here!