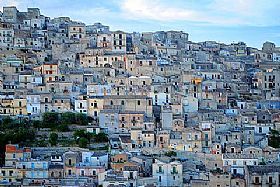 Modica is a gleeming city that at first glance seems to have erupted from the rock. The milky-white stone and the jumble of houses scrambling along the cliff wall looks like part of nature's plan. It is a UNESCO World Heritage Site along with other Baroque towns in this part of Sicily and is worth a visit.
Cited by Thucydides, Pliny and Ptolemy, it has a very long history, starting more than 1000 years BC with the Sicels (the ancient Sicilians) then becoming part of the Greek colony from Siracusa. It was taken over by the Romans following the Punic Wars, passed to the Byzantines, the Arabs and the Normans, like the rest of the island. It eventually gained independence and some measure of status.
Modica is divided into two parts - Alta and Bassa, upper and lower, also corresponding to the older city and the newer constructions. They are divided by a gorge that is spanned by Europe's highest bridge, the 300 meter high Guerriera Bridge, which challenges those afraid of heights but also gives a breathtaking view of the city. Modica is shining example of Sicilian Baroque, a beautiful place with palaces, piazzas, churches, and towers all decorated and attractive in their unique uniformity.
The Cathedral of San Giorgio is a fanciful rococo church that looks like a wedding cake topper, perched above 164 steps. The climb is worth it for the views. The church of San Pietro, also at the top of a staircase, has a row of saints lined up along the way that resembles a statuary welcoming committee. The Castello di Conte has a commanding presence up above the town. Palazzo Mercedari houses a museum and library in its Baroque interior. There are many other churches and palaces to see, all beautiful in their unique Sicilian style. The Garibaldi Theater is a jewelry box of velvet seats surrounding the opera stage.
This city of 45,000 people inhabits its piazzas and spaces, proud of their unique spot and style, and vibrant as you would expect Sicilians to be. They have a unique craft, too - chocolate! There is a 400-year tradition of confectionery crafting in Modica, from when cocoa was brought by the Spanish during their rule over Sicily. It's been perfected and still practiced with precision (and very tasty results!)
Been there? Done that? Share your experience and tips!
Haven't visited yet? Have questions about Modica? Ask them here!
Explore nearby towns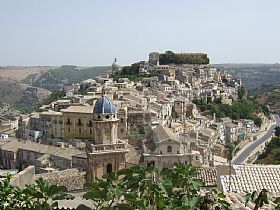 Ragusa looks fascinating, its stone buildings peeking up from streets that wrap themselves around the hilltop.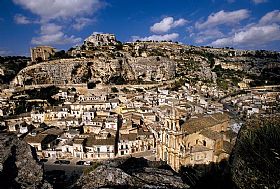 This beautiful Baroque town sits in a gorge in southern Sicily just a few miles from the Mediterranean Sea.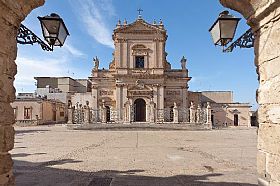 The beautiful Baroque city of Ispica sits in the hills of the southern tip of Sicily.