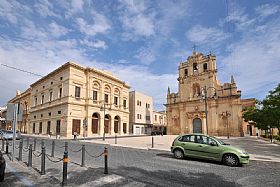 An Ionian seaside town, Avola is a mix of old and new. The town focuses heavily on the sea, with its history as a tuna fishing port. Today, the remains of the Vecchia Tonnara at the wharf are a stone backdrop to the sandy beaches. Avola dates back to a pre-Greek people called the Sicani. The Greek colony here was established in the 8th century BC, then the Romans arrived in 227 BC.
Modern Avola retains some characteristic corners and hopping palm-lined piazzas. Restaurants, cafes, and pastry shops provide regional treats, and there is no lack of shops and services. The town's name is famous because of the wine dubbed after it - Nero d'Avola, a hearty red variety exported around the world. There are also almond groves, citrus farms and vegetable cultivation here. The town has a penchant for festivals, especially food feasts. There is a sagra celebrating almonds, one for swordfish, and one for cinghiale (wild boar) every year, plus a summer line-up of concerts and parties. There is also a Sagra del Vecchio Mare held at the old tuna fishing wharf to pay homage to the town's past and what had been the lifeblood industry of tuna fishing.
Don't miss the Antico Borgo, the old town, with its charming streets and stone buildings. The Teatro Comunale is a point of pride for the people, an opulent opera house bedecked with boxes and lined with velvet, its construction signaled a rise in the city's prosperity and cultural status. The Vecchio Mercato is where the daily fresh market was held, in a beautiful colonnaded cloister of what had been a Benedictine monastery. There are a couple of communal parks to enjoy, too: The Villa Comunale and the Parco della Rimembranze bring a cooling splash of green to the stone streets.
Nearby is the Riserva Naturale di Cava Grande del Cassibile (a long name for a nature reserve!) that is also called the "Grand Canyon of Sicily" because of its deep river gorge. Reaching down 250 meters (820 feet), there are rock basins that fill with water providing cooling swimming holes secluded away in the deep crevices of the gorge. The area has an array of orchids to enjoy, too.
But of course, much of the lure of Avola is the sea and the wide beaches. The Ionian coast here is transparent and the long sandy expanses are great for kids. Along the waterfront is a long pier that juts out into the sea, a preferred spot for a romantic stroll.
Been there? Done that? Share your experience and tips!
Haven't visited yet? Have questions about Avola? Ask them here!
Explore nearby towns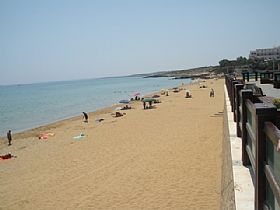 Lido di Noto is, as the name suggests, the beach of Noto.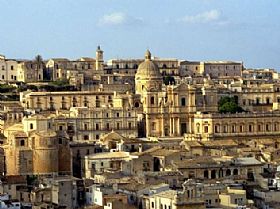 One glance at Noto and you'll see why it's referred to as "the pearl of Sicily".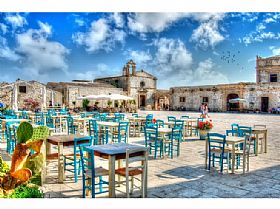 Marzamemi has an exotic flair to it.