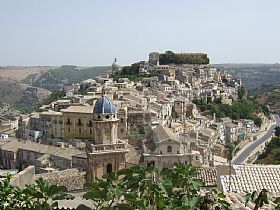 Ragusa looks fascinating, its stone buildings peeking up from streets that wrap themselves around the hilltop. It has a 3000-year history, though the majority of the buildings seen today were constructed in the early 1700s following the earthquake of 1693. Together with 7 other neighboring towns of the Val di Noto, Ragusa is on the UNESCO World Heritage list for its unique Sicilian Baroque style.
First settled by the Sicels, the original Sicilians, it became part of Magna Grecia before being conquered by the Romans. It saw the usual series of invaders and rulers that dominated the island - the Byzantines, Arabs and Normans. It has an archeological museum showing off artifacts from its ancient past.
Ragusa was rebuilt in two parts - Superiore and Inferiore, separated by a ravine that has four bridges spanning it. The so-called Superiore (upper town) was the part for the nobility and upper class during the rebuild and is home to the city's cathedral, but today is Ragusa Inferiore, more commonly called Ragusa Ibra, that draws visitors and is more picturesque with its irregular Medieval-style streets decked out with Baroque decorative details. The Cathedral of St. John the Baptist is a lovely church. In Ragusa Ibla don't miss the dual-style Santa Maria delle Scale, which was partially rebuilt in Baroque leaving the surviving half in its original Gothic decor. The Church of San Giorgio is a fancy Baroque interpretation of Byzantine style and has some impressive stained glass. The elliptical interior of San Giuseppe with its frescoed dome is worth a look, too.
The town is charming and full of life, with 72,000 proud residents keeping it abuzz. Restaurants, cafes, shops and beautiful views highlight your visit through this interesting, attractive city.
Been there? Done that? Share your experience and tips!
Haven't visited yet? Have questions about Ragusa? Ask them here!
Explore nearby towns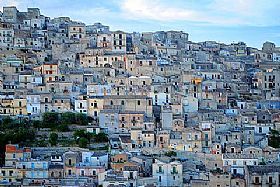 Modica is a gleeming city that at first glance seems to have erupted from the rock.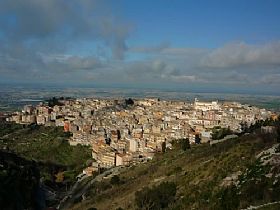 High in the hills of south-central Sicily, Chiaramonte Gulfi is called a "balcony" for its sweeping views of the valleys, mountains and sea.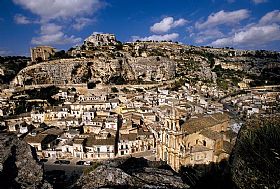 This beautiful Baroque town sits in a gorge in southern Sicily just a few miles from the Mediterranean Sea.