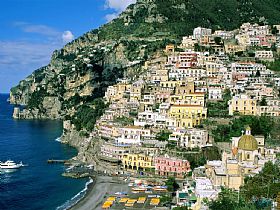 If you think you have no idea where Campania is, think again. This fascinating land of glittering gulfs, islands, and legendary places is home to the charming landscapes of the Amalfi Coast, Sorrento, the Cilento National Park, Capri and Ischia.
The Campania region is situated in the South of Italy and outlined on the west by the Mediterranean Sea (called the Tyrrhenian, or Tirreno). The region is divided into five provinces, whose capitals you've probably heard of: Salerno, Caserta, Avellino, Benevento and Naples (Napoli). Naples is also the capital city of the region itself. With roughly 6 million of residents, half of which lives around the city of Naples, Campania has more people than the nation of Finland, packed in an area which is 200 times smaller! But despite its population density, there are still some wild and unknown areas, with mountains and small towns to enjoy, too. Its seacoast is Italy's most famous and fabled - who hasn't heard of the Amalfi Coast?
If you are fond of archeology, architecture, or simply want to see history come to life, then Campania is a must. The archeological heritage here is huge: the splendid temples left by the Greeks in Paestum, the buried towns of Pompeii and Herculaneum, the remains of Greco-Roman Velia, the second-largest Roman amphitheater in Italy at Capua...they're all incredible, historic sites. Then there's the Royal Palace of Caserta, built to be the most sumptuous palace of Europe, with its 1200 rooms, backed by an amazing garden, it is Italy's version of the Palace of Versailles. Museums, churches, piazzas, and palaces- you'll be amazed by the variety and beauty of the architecture here.
But if you prefer the beauties of nature, Campania won't disappoint you. The sandy beaches and the crystal-clear waters of the Cilento National Park, the awe-inspiring scenery of the famous Amalfi Coast, the islands of the Gulf of Naples, like captivating Capri, are just a few of the places you can enjoy. From the underground depths of the caves of Pertosa to the heights of Mount Vesuvius, there is something for everyone. The Cilento National Park also has vast tracts of mountain scenery to enjoy hiking or mountain biking.
Campania also maintains some of Italy's most treasured culinary highlights, as well. Many of the world-known Italian dishes have their roots in Campania: pizza, spaghetti, mozzarella, limoncello, cannelloni… Italians know Campania well for being one of the tastiest regions offering the best food imaginable. It is also the undisputed winner for the best coffee in the country. Espresso, cappuccino, and now interesting variations such as hazelnut coffee jump-start the day for the residents of Campania, and will make yours, as well.
Campania is a beautiful land, where art, history, nature and tradition come together to offer an unforgettable vacation.
Been there? Done that? Share your experience and tips!
Haven't visited yet? Have questions about Campania? Ask them here!