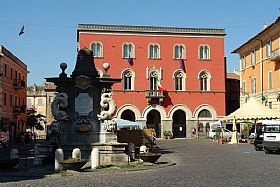 A pretty town in the gentle Lazio hills north of Rome, Campagnano di Roma retains the atmosphere of the Middle Ages. Its "medieval borgo" has towers and sinewy streets to enjoy, and the ancient Porta Roma, gateway into the city, still stands proudly next to the City Hall, and opens onto Corso Emanuele, the main street. It is lined with pastel palazzi, shops, eateries and coffee bars, before spilling out into Piazza Leonelli, with its fancy fountain by Vignoli in the middle guarded by an old clock tower.
The Piazza della Fontana Secca, or dry fountain, features antique basins where spring water collected, both washing clothes. The church of San Giovanni Battisti was built in 1515 and features some fine frescoes. The archeological museum shows off artifacts found in the area, which was an Etruscan zone before being taken over by the Romans. The Sanctuary of the Madonna del Sorbo is about five kilometers outside town in a wooded setting, making it a nice outing for walking and nature enthusiasts. The area is covered by hills and forests and little lakes.
Not far from Campagnano di Roma is Lake Bracciano, and the interesting historic towns of Nepi, Sutri and Viterbo.
Campagnano di Roma organizes an annual Festa del Baccanale, a 55-year tradition of culinary, wine, and artisan highlights. There is also a medieval era event called the Palio delle Contrade, a costumed parade which is followed by a race of dignitaries on donkeys representing the town's districts and battling it out for the prized Palio (a painted drapery). Campagnano is also known for its cultivation of artichokes and wine.
Been there? Done that? Share your experience and tips!
Haven't visited yet? Have questions about Campagnano di Roma? Ask them here!
Explore nearby towns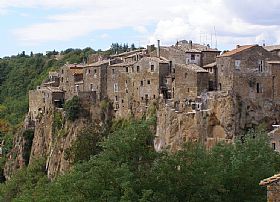 The medieval Calcata is perched on a rocky plateau which dominates the wood-covered valley of Treja, between Rome and Viterbo.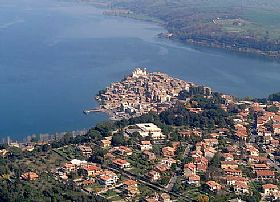 Anguillara Sabazia rests on the shore of Lake Bracciano, only 30 kilometers north of Rome but a placid world away.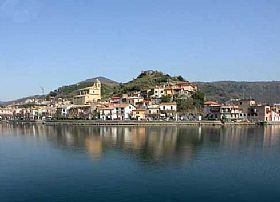 Trevignano lies along the placid shoreline of Lake Bracciano, north of Rome.