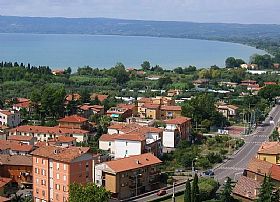 Bolsena lies at the foot of Mounts Volsini at 350 metres above the sea level. The town slopes gradually down to the plain, along the north-eastern shore of the homonym lake, 31 km north of Viterbo.
Bolsena still preserves the 4th-century BC walls and a temple belonging to the Etruscan Velzna (the primitive original city, set up on the hill the now holds Orvieto). The amphitheatre, the thermal baths, and several bridges, streets and necropolis come instead from Volsinii, the Roman city founded by the people who escaped the destruction of Velzna (264 BC)
The ancient medieval hamlet downtown, very well-kept, houses the Romanesque collegiate church of St Cristina. The latter was built during the 11th century over ancient, and partially unexplored, Christian catacombs; there is also a chapel, dating back to 1693, built in order to remember the Eucharistic miraculous happened in 1263. The castle (13th -14th century) overlooks the hamlet from above and today houses the interesting local museum of the lake.
After some decades of poverty, thanks to the strategical position and the Via Cassia, the Roman city obtained so much notoriety to become a municipium (second-highest class of Roman cities, being inferior in status to the colonia), until the coming of Christianity. Then it saw a period of decadence, due to the Lombard sackings (5th century) and, later on, it was contended among a number of governors. It finally passed under the rule of the Church until the Unification of Italy, in 1861.
In winter, Bolsena counts about 4000 people and its unbelievable quietness is sometimes interrupted by a bit of traffic along Via Cassia or small groups of visitors. The medieval town gets definitely alive in spring and summer, with dozens of tourists coming to visits the catacombs of St Cristina and the altar of Miracolo Eucaristico, or simply enjoy the pleasant breeze and take a bath in the lake. Lake Bolsena offers the opportunity to practice any water sports, even sailing and windsurfing. The chestnut, oak and hornbeam woods around the lake, lead to lovely excursions and fully equipped restoration areas.
The ruins of ancient human settlements and Etruscan necropolis arouse a lively interest of archeologists, historians and simple tourists. The numerous restaurants offer traditional dishes based on lake-fish accompanied by palatable local wines, like the red Aleatico and Cannaiola, or the white Est! Est! Est!.
Been there? Done that? Share your experience and tips!
Haven't visited yet? Have questions about Bolsena? Ask them here!
Explore nearby towns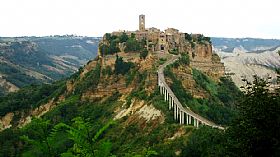 Bagnoregio means "royal bath," alluding to its importance as a thermal spa two millennia ago.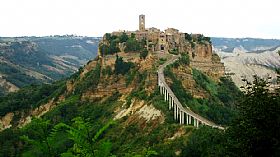 Bagnoregio means "royal bath," alluding to its importance as a thermal spa two millennia ago.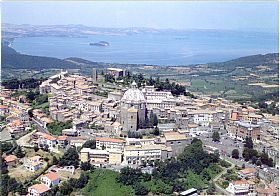 Montefiascone sits at 590 meters above sea level with an enchanting view of Lake Bolsena.