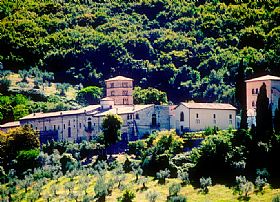 This still-operational abbey was once an influential city-state that controlled hundreds of villages and a large swath of central Italy. The Abbey of Farfa was started by Laurence of Syria who came to Rome and was made bishop, but was drawn to monastic life. He built a chapel and monastery in the woods near a stream but it was destroyed in the 5th century. The subsequent centuries saw its rebuilding and enlargement, along with expansion and attacks. It was an epoch of drama that reads like a novel with tales of power, riches, revenge and hostile take-overs. It was when Hugh of Farfa was made Abbot in 997 that the monastery's influence grew. Seizing upon opportunities and hard times, he seized estates in Abruzzo, Umbria and Marche as well as this area of Lazio, making Farfa its own small nation that controlled 600 churches and monasteries, a few hundred towns, and 132 castles. It had its own military, servants, workshops, school, pharmacy, and hostel for pilgrims.
Farfa was eventually weakend by Roman elites and feudal lords, with sharp decline occurring when the pope designated Lay Abbots to rule over the community, in effect then making it a feudal extension of powerful families like the Orsini, Della Rovere, and Farnese. Farfa lost much of its importance and lands. It continued to live on as a monastery, however, and is still a Benedictine Order monastery. It was designated a national monument in 1928.
A visit takes you on a tour of the complex, including the Abbey itself, the bell tower, the basilica and the hamlet that surrounds them, as well as places of peace that the monks favor. There is an herbal shop that sells soaps, essential oils, tinctures, honey and liqueurs made by the monks. The Benedictines are known for their hospitality, so there is also a guest house.
Farfa is in the Sabine Hills of Lazio, an ancient land that was inhabited by the Sabine tribe who migrated into these hills from the Adriatic coast in the 9th century BC. They established Rieti and other cities along the Via Salaria. The famous legend is that Romulus enticed the Sabines to a festival and then abducted the women into the walls of Rome in order to expand the city and its alliances. The Sabine people made a pact with Rome to save their women, and the empire began to grow from that point. Today, the Sabine hills are a place of classic landscapes and a traditional way of life, close to the city of Rome but a quiet world away.
The Abbey of Farfa is open for guided tours every day. Tours are from 10:00 AM til 1:00 PM or from 3:30 PM til 6:30 PM (except on Mondays). Farfa is a frazione of Fara in Sabina.
Been there? Done that? Share your experience and tips!
Haven't visited yet? Have questions about Abbey of Farfa? Ask them here!
Address in Farfa:
Via del Monastero, 1.
Ph. (+39) 076 527 7065.