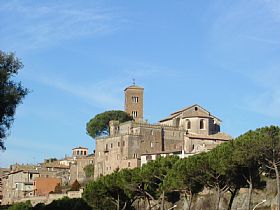 About an hour north of Rome but a world away from the crowds, Sutri is a historic town with loads of ambiance. It's founding goes back millennia, when the Etruscans lived here. A necropolis of rock-cut tombs testifies to their presence and their unique burial ceremonies. A mithraeum of ancient origins was later incorporated into the fascinating crypt of the church of the Madonna del Parto. The city sat in a strategic position on the road into Etruria, the Via Cassia and was a fortified outpost. A pact in 728 ceded it to the papacy, marking the first extension of Papal territory beyond Rome.
The most notable ancient structure of Sutri is the enormous and well-preserved Roman amphitheater, an elliptical stadium built by Emperor Augustus. There are remains of the ancient city walls built of great rectangular blocks of stone, with gateways that permitted entry to the town.
Sutri is a great town to wander around and absorb the atmosphere. Lively piazzas, narrow streets, shops and restaurants give it a good vibe, showing the classic mingling of ancient structures and modern life so common in Lazio. It is built in the tuff hills surrounded by ravines, woods and classic countryside scenes.
In town, the Cappella dei Cavalieri di Malta (Church of the Templar Knights) is worth seeing. Also known as Santa Maria del Tempio, it was built in the mid-1200s. The tiny rustic chapel has little adornment apart from the fresco of the Madonna with Child. The Porta Franceta and rotund adjoining tower are an historic, distinctive scene in the old town. The Cathedral of Santa Maria Assunta has a lovely crypt with 20 different columns, giving it an air of mystery. All around town are ancient monuments and inscriptions, lots of architectural details and embellishments.
Sutri throws some good parties throughout the year, including a colorful Carnevale, and the magic of streets carpeted with flower petals during the Infiorata during the celebrations of Corpus Domini. In September there is the Sagra del Fagiolo (Bean Festival) held the first two weekends that serve up good food and fun. And at Christmas the old streets provide the backdrop for a living nativity scene.
Been there? Done that? Share your experience and tips!
Haven't visited yet? Have questions about Sutri? Ask them here!
Explore nearby towns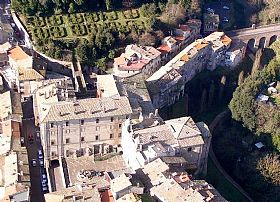 Bassano Romano is an attractive medieval town tucked between Lake Bracciano and Lake Vico, and protected by the Crimini and Sabatini mountains, north of Rome.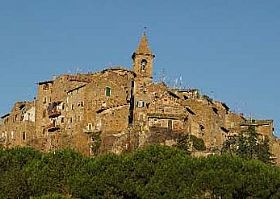 Capranica lies among the Cimini mountains atop a tuffaceous stronghold over the ancient Via Cassia.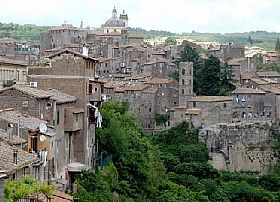 Sitting on a bluff near Viterbo, north of Rome, Ronciglione is a beautiful blend of Medieval, Renaissance and Baroque architecture in a compact space.