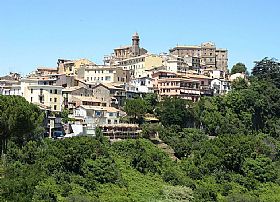 Spread out over a volcanic plateau above Lake Nemi, Genzano di Roma is a typical Medieval hill town. It sits on the famed ancient Roman road, the via Appia. Its stone defensive walls still enclose the town in a cradle of well-preserved charm. The tower that tops its skyline was erected in 1183 by the Gandolfi family. Genzano is actually a pretty bustling place, with restaurants, wine bars, cafes and nice shops. A pretty promenade is the Olmata, a wide, elm-lined avenue.
The cathedral, Santa Maria della Cima (St. Mary on the hill), occupies a crowning spot on the town overlooks the lake and the beautiful countryside surrounding Genzano. The cathedral was built over top of the remains of a Roman temple. The church of the Cappuccini is at the end of the Olmata and was built in 1643 by Franciscan monks. It has a sober but luminous interior. The lanes of the historic center are littered with alluring fountains, one of which is known as the Fontana del Vino (wine fountain) because of the decorative grape leaves carved into it. The Fontana del Vino turns water into wine once a year when it spurts vino as part of Genzano's annual wine festival. During the festival, wine tastings are held in the Renaissance-era Palazzo Sforza Cesarini. The local vintage is DOC Colli Lanuvini, a full-bodied white.
But Genzano's most famous festival is the Infiorata (the flowering) when the streets are strewn with blooms to celebrate Corpus Christi. Elaborate works of art are painstakingly created in the streets using petals, seeds, nuts, and wood shavings - all elements must come from the plant world. The colorful festival is a dazzling sight to behold.
Been there? Done that? Share your experience and tips!
Haven't visited yet? Have questions about Genzano di Roma? Ask them here!
Explore nearby towns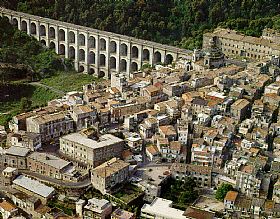 Ariccia is a lovely town in the beautiful hills of the Castelli Romani south of Rome.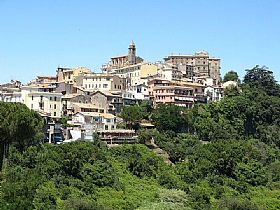 Lanuvio is an historic hillside town south of Rome.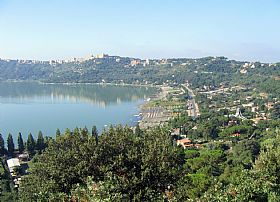 The beautiful setting of Castel Gandolfo has made it a popular retreat for centuries.