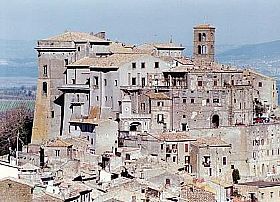 The tiny town of Bomarzo seems other-worldly as its stone center reaches upward on the hilltop. Located near Viterbo, it is one of the few towns in the area that without Roman roots. It is in the center of ancient Etruria, which was a center of Etruscan culture, but Bomarzo was primarily the seat of a branch of the Orsini family. When the powerful Orsini and Farnese families forged a merger by marriage, Vicino Orsini and his bride Giulia Farnese made Bomarzo their residence and built a palace worthy of their wealth and status. The Orsini crest is emblazoned on buildings all over town.
They also gave the village's little church a Renaissance facade while keeping the heavy stone bell tower in its orginal medieval state. Bomarzo is sketched with narrow streets and the buildings cuddle up together. It has a pretty town hall with an archway, a clock tower and a terrace with a view.
While the town is charming, Bomarzo is best known for the "parco dei mostri" or Monster Park. Commissioned in the 1500s, it was undertaken by Piro Ligorio, who built the Villa d'Este in Tivoli and contains enormous, surreal, and sometimes grotesque larger-than-life sculptures portraying mythology and oddity.
Bomarzo is just off the A1 motorway, near Soriano nel Cimino, Viterbo, and the Umbrian border with Lazio.
Been there? Done that? Share your experience and tips!
Haven't visited yet? Have questions about Bomarzo? Ask them here!
Explore nearby towns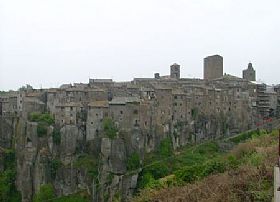 The lovely town of Vitorchiano grips a bluff at the foot of the Cimini mountains, near Viterbo and 90 km from Rome.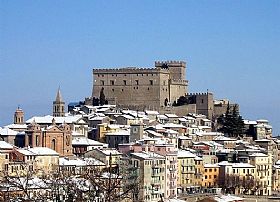 Soriano rises from a mountain setting among the abundant chestnut forests of northern Lazio.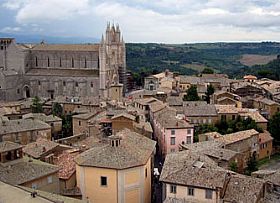 Viterbo is a city that will surprise you with its medieval beauty and its interesting history.