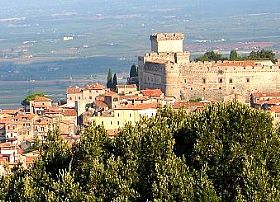 Sermoneta lies on a hill, looking down the Via Appia and the Pontine Plain before it runs into the sea. The natural environment is characterized by olive groves, chestnut and beech forests in the higher part. The city's origins are shrouded in myth. It is assumed that Sermoneta should be identified in the territory of the ancient Roman Sulmo, also mentioned in the writings of Filippo Cluviale who lived during the age of the Caesars, who, while speaking about the pontine campaigns, reported Sulmo between Norba (Norma) et Setia (Sezze).
In 1297, the Hannibal gave Sermoneta to Boniface VIII for 140,000 gold florins. In 1401 the Caetani family took possession along with Norma, Ninfa, Bassiano and San Donato. About 100 years later, Pope Alexander VI - Rodrigo Borgia assigned the city to Lucrezia Borgia. Sermoneta went back to the Caetani in 1504. That's a lot of activity for a small town!
But those few centuries of intense activity have given Sermoneta the urban plan and monuments that make it a lovely medieval jewel. The prominent castle that crowns the town is open for visitors, and is still in the hands of the last descendent of the Caetani family.
In addition to the Castle Caetani, don't miss the Collegiate Church of St Maria in the middle of Sermoneta, the church of Our Lady of Grace, the church of St Joseph. Sermoneta hosts major national and international exhibitions such as the Festival Pontine and historical events like the commemoration of the Battle of Lepanto, in addition to the more typical festivals like the Festival of Polenta. But the real charm is its overall atmosphere and views from its hill over the surrounding countryside.
A few kilometers from Sermoneta towards Bassiano, the Abbey Valvisciolo is worth a visit, as one of the earliest examples of Gothic - Cistercian architecture in Italy. Another main attraction is the Garden of Ninfa, named one of Italy's Most Beautiful Gardens.
Been there? Done that? Share your experience and tips!
Haven't visited yet? Have questions about Sermoneta? Ask them here!
Explore nearby towns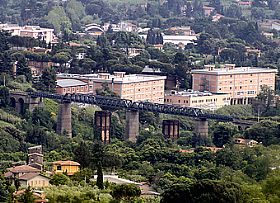 An historic city in the Castelli Romani hills south of Rome, Velletri traces its founding to the tribe of Romulus.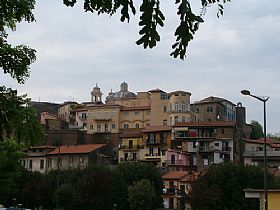 Originally an ancient city with pre-Roman roots, it grew during the Imperial period.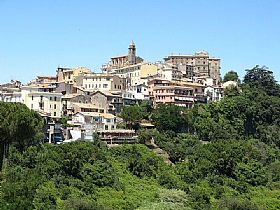 Lanuvio is an historic hillside town south of Rome.