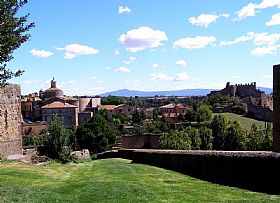 Tuscania rises at the end of Maremma Viterbese, close to the Lake Bolsena and not far from the sea, north-eastwards from Tarquinia on the Viterbo road. Symbol of the city is the hill called "Colle San Pietro", inhabited from the the Iron Age.
Tuscania was an ancient Etruscan settlement, as you will be able to notice in the numerous necropolis all around the city, like Madonna dell'Olivo (the most important one). Tuscania is rich in surprises and interesting spots: you will have the opportunity to visit churches, monuments and ancient buildings, telling about important events of the past that have marked the local history.
According to the legend, the city of Tuscania was founded by Tusco, son of Hercules. The town rises indeed on the valleys of the rivers Marta and Capecchio, on top of a hill overlooking stunning panoramas.
The churches in Tuscania certainly are one of the best and most fascinating elements in town, we strongly suggest a tour to discover the lovely religious monuments. Starting from the Church of St Marco, one of the oldest buildings; then have a look at the Church of Santa Croce, now unconsecrated and seat of the local Record Office; the Church of St Maria della Rosa, splendid architectural construction; the Dome, dating back to 1500 and upholder of a number of precious works of art; the Church of St Maria del Riposo that, as one of the most significant churches in Tuscania, preserves some important and noteworthy frescoes; the Church of St Maria Maggiore, built in the VIII century, shows a beautiful fourteenth-century fresco representing the "Last Judgement" and the Basilica of St Pietro, main holy building, in Lombard/Romanesque style.
Among the civil must sees, you should take a look at the Fontana delle Sette Cannelle, built during the Etruscan-Roman Age; the Torre di Lavello, immersed into the Renaissance edifices in town; the Palazzo Fani Ciotti, dating to 1500; Porta del Popolo and Porta del Poggio, known as the two main entrances to the ancient fortified city; the Palazzo Comunale (1600), keeping some great Renaissance frescoes. Do not miss the necropolis, just out of the city, Regina and Tomba are really popular.
Been there? Done that? Share your experience and tips!
Haven't visited yet? Have questions about Tuscania? Ask them here!
Explore nearby towns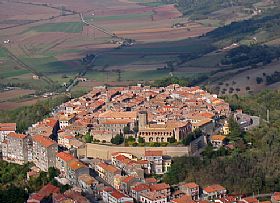 Valentano sits in a circular cradle on top of a hill surrounded by rolling landscapes near Lake Bolsena.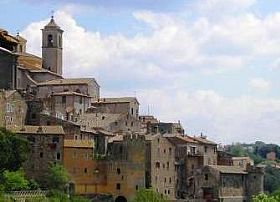 Vetralla is in an area known as Etruria, a land of ancient origins which skirts the border of Lazio and Tuscany.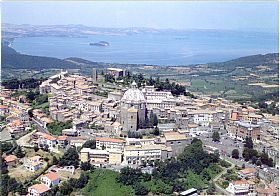 Montefiascone sits at 590 meters above sea level with an enchanting view of Lake Bolsena.