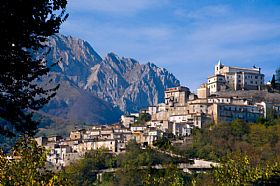 The heights of the Gran Sasso and the long coastline of the Adriatic Sea make Abruzzo a land of contrasts. The region looks ancient with its Medieval towns clinging to hillsides and tucked into hidden crevices in forgotten peaks. Abruzzo abounds with time-honored traditions and crafts, still practiced by a pride people. Goldsmiths, barrel makers, copper workers, stone masons all still carry on their crafts as their great-grandfathers did. A sweeter trade is the confetti candies made here in Sulmona and famous throughout Italy; the candy-coated almonds are arranged into fanciful forms and used for celebrations like weddings, baptisms, and graduations. Cakes and other confections are produced in Abruzzo and sold around the country.
But Abruzzo's real appeal lies in its natural splendor. Home to Italy's largest national park, the Gran Sasso and Monti della Laga, soaring peaks and rugged ranges form the spine of Abruzzo and offer abundant wildlife, miles of undisturbed nature, and plenty of trails to seek out some solitude. High hill towns still hold on with diminished populations, keeping the flames of Abruzzo's history alive. Along the Adriatic Coast, you can find a fascinating area of coves and pebble beaches dotted with trabocchi, old-time wooden fishing platforms with wide nets hanging off them. It's a wonderful place for a swim in crystal-clear waters with a lovely backdrop (and the freshest of fish for lunch!) But the northern stretch of coast is wide and sandy, for those who prefer a lido experience.
Abruzzo is considered one of the culinary gems by Italians, renowned for its authentic, down-home fare that uses the old recipes from nonna's kitchen, so be sure to sample both the hill cuisine and the seafood specialties you'll find here. Cities like Pescara, Teramo and Chieti offer art, shopping and nightlife, while the small towns are rich in Old World atmosphere and friendly welcomes. The hills of Abruzzo are well-planted with vines, as the region producing excellent vintages of Montepulciano d'Abruzzo and Trebbiano wines.
Been there? Done that? Share your experience and tips!
Haven't visited yet? Have questions about Abruzzo? Ask them here!