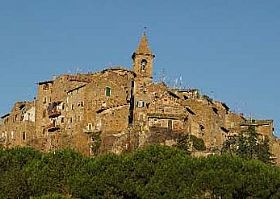 Capranica lies among the Cimini mountains atop a tuffaceous stronghold over the ancient Via Cassia. It is just 27 kilometers from Viterbo and only 60 kilometers from Rome.
The picturesque old town center, rural churches, traditional events and food festivals all invite you to stay and admire all this beauty. Its interesting history can be discovered simply by walking through the narrow streets that hide traces of a glorious past.
The town's strategic position above the only crossroad between southern and central Etruria made it an important junction from the Middle Ages. The old abbey's remains, nowadays called Torri di Orlando, are just one of many witnesses of Capranica's ancient splendour. Capranica was residence of the famous poet, Francesco Petrarca, a guest of the noble family of Anguillara, grand art benefactors.
The pretty village was founded around the 8thcentury by the citizens of Vicus Matrini, who escaped the destruction of their own hamlet.
Among the main monuments, you will want to see the church of Santa Maria, designed in 1886 by Renzo Vespignani. This pretty church preserves the statue of Madonna delle Grazie, made in 1808; a stunning painting dated back to the XII-XIII centuries representing the Benedictory Saviour; a splendid triptych with saints dating back to the XV-XVI century and a XV-century sanctuary. The Romanesque Church of San Francesco retains the marble tomb of the twin brothers, Francesco and Nicola Anguillara, who died between 1406 and 1408. You will love the XVI-century Duomo (cathedral) of San Giovanni with its Romanesque bell tower, as well as the Church of Madonna del Piano, located just 500 metres from the town center along the Via Cassia towards Viterbo, with a splendid façade, attributed to Vignola.
Capranica, located on its rock bluff, is accessible from two opposing entries. The ancient village is characterized by charming XVI-century buildings: in this period Capranica reached indeed its maximum splendour, thanks to the numerous urban and architectural restoration works. Capranica is divided into three zones: the oldest area of Castrovecchio, with the ancient castle Anguillara, reachable from Porta del Ponte; the Renaissance area, set between the two gateways; and the most recent modern zone, outside the town walls.
The village is also renowned for the huge production of hazelnuts.
Been there? Done that? Share your experience and tips!
Haven't visited yet? Have questions about Capranica? Ask them here!
Explore nearby towns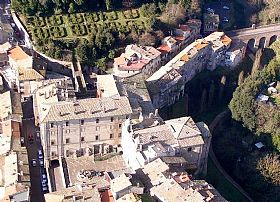 Bassano Romano is an attractive medieval town tucked between Lake Bracciano and Lake Vico, and protected by the Crimini and Sabatini mountains, north of Rome.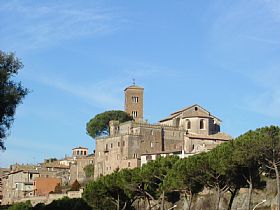 About an hour north of Rome but a world away from the crowds, Sutri is a historic town with loads of ambiance.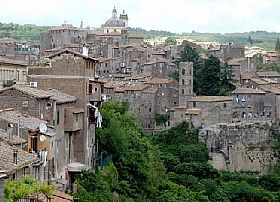 Sitting on a bluff near Viterbo, north of Rome, Ronciglione is a beautiful blend of Medieval, Renaissance and Baroque architecture in a compact space.