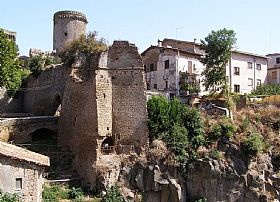 Nepi is a lovely town north of Rome near Lake Bracciano. It is in the area known as ancient Etruria, amidst gently rolling hills and monumental towns with epic pasts. The town was a pre-Roman settlement in the borderlands of Cerere (Etruscan Cerveteri) and Sutri. The Romans arrived and established a stronghold here in 383 BC and eventually conquered the entire region. Throughout the Middle Ages and Renaissance era, it was the feudal domain of the noble families of Lazio and passed successively from the Orsini to the Colonna and then the Borgia. Nepi has a nice atmosphere and lovely landscapes.
The Rocca dominates the skyline making it an imposing presence, even centuries after it has no longer served as a defense for the city. A graceful monumental aqueduct looks Roman but was built in more recent history to carry spring water. The Acqua di Nepi is an important resource, the mineral water is bottled and distributed nationwide. The ancient Porta Roman was the main gate, and is still the primary entry to the historic center.
The town has a pleasing appearance with palaces amidst its cobbled streets in different styles by various aristocratic families. The Palazzo Comunale is a Renaissance style villa built by Sangallo the Younger for Duke Pier Luigi Farnese in 1542. The upper part was added in 1700. The cathedral is a 12th century structure that was reconstructed after it had been set ablaze by French troops in 1798. The crypt is not to be missed. The simple chapel of San Biagio was part of a 10th century monastic complex, beautiful in its very simplicity. A civic museum showcases artifacts from Etruscan, Roman and Medieval Nepi.
Outside town are Roman era catacombs and an Etruscan necropolis. For nature lovers, a trip to the Cascate del Picchio is in order, to see the charming waterfalls.
Been there? Done that? Share your experience and tips!
Haven't visited yet? Have questions about Nepi? Ask them here!
Explore nearby towns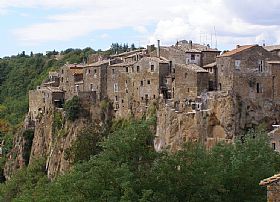 The medieval Calcata is perched on a rocky plateau which dominates the wood-covered valley of Treja, between Rome and Viterbo.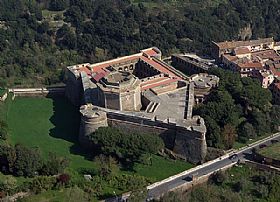 Civita' Castellana is a truly ancient town in northern Lazio, near the Umbrian border.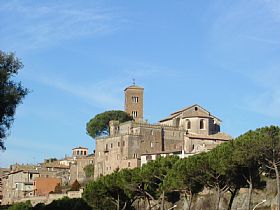 About an hour north of Rome but a world away from the crowds, Sutri is a historic town with loads of ambiance.