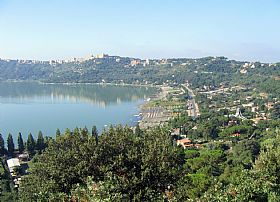 The beautiful setting of Castel Gandolfo has made it a popular retreat for centuries. The town has a population of about 8800 residing in the pretty streets of this magical hill town. It is best known as the summer residence of the popes, where the pontifical palace and its gardens are set. The 55 hectares (135 acres) estate is within the confines of the city yet has extraterritorial status as property of the Holy See. The Vatican Observatory is also located here.
The town of Castel Gandolfo has ancient origins, dating back to pre-Roman times. There are remains of expansive Roman villas built by the emperors as summer retreats; with its convenient location about 15 miles south of Rome along the Appian Way, it was a favored getaway from the heat of summer in the city. The storied hills have a mild pleasant climate, and with the surrounding hills it is a truly beautiful spot.
Castel Gandolfo boasts a large number of villas built by prosperous Roman families through the centuries, including Villa Barberini (part of the papal complex), Villa Torlonia and Villa Chigi, among many others. The church of St. Thomas of Villanova was built by Bernini, and the shores of Lake Albano are dotted with impressive residences and villas, as well. The Pontifical Palace is a large swath of land that includes the Villa Barberini and its gorgeous gardens, Villa Cybo, a cloistered convent, and Villa del Moro, surrounded by grounds and farms, used exclusively by the popes.
The town has a pretty atmosphere with pastel-painted buildings adorned with shutters and flower boxes. There is a plethora of shops, restaurants and cafes, and a lively outdoor market. The setting is splendid, and the grapevines that outlines some of the fields produce fine, light wines from heritage varieties.
Nearby is the nature reserve of the Castelli Romani, an area of natural splendor close to the city.
Been there? Done that? Share your experience and tips!
Haven't visited yet? Have questions about Castel Gandolfo? Ask them here!
Explore nearby towns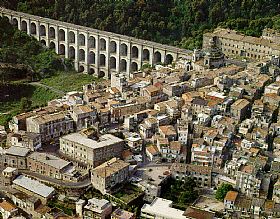 Ariccia is a lovely town in the beautiful hills of the Castelli Romani south of Rome.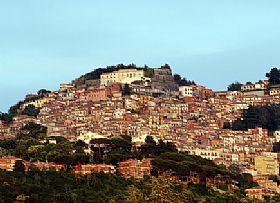 Rocca di Papa is an interesting town with a telling name.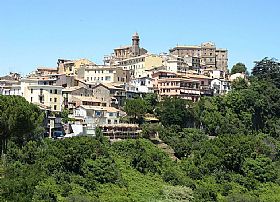 Spread out over a volcanic plateau above Lake Nemi, Genzano di Roma is a typical Medieval hill town.