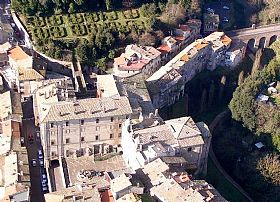 Bassano Romano is an attractive medieval town tucked between Lake Bracciano and Lake Vico, and protected by the Crimini and Sabatini mountains, north of Rome. Despite its proximity to the capital city, this is a tranquil corner of rolling countryside. The area is known for its chestnut and hazelnut groves.
According to a popular legend, Bassano Romano was founded by a couple of young Etruscans, Velka and Tarkan, who moved here from nearby Sutri after their marriage, attracted by the beauty of the place. The Etruscan origins of Bassano are not documented, although archeological reconnaissance in the area has revealed tombs and niches carved into the tuff, however they are almost completely buried and nothing can be further assessed.
Bassano Romano still retains the medieval style and atmosphere. It has a lovely main piazza which is flanked by beautiful eighteenth-century buildings, as well as the stately Giustiniani Odescalchi palace. The palazzo has graceful arcaded porticos with gorgeous frescoes. Scattered around town and in the immediate countryside are several noteworthy churches, but the one to not miss is San Vincenzo Martire where a creamy white statue of Christ with the Cross is housed, created by Michelango.
The town thumps and thrives during its annual Rock Fest, when headliners include a line-up of international bands covering the various genres of rock music. Bassano also reverts back to the Middle Ages once a year when the Medieval Market rolls into town, a costumed and festooned affair.
Bassano Romano is a nice town for a stroll or dinner.
Been there? Done that? Share your experience and tips!
Haven't visited yet? Have questions about Bassano Romano? Ask them here!
Explore nearby towns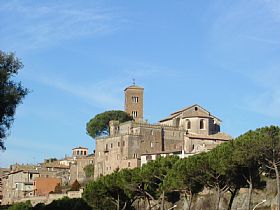 About an hour north of Rome but a world away from the crowds, Sutri is a historic town with loads of ambiance.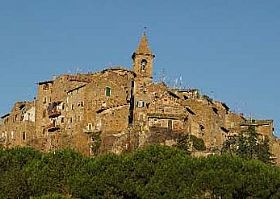 Capranica lies among the Cimini mountains atop a tuffaceous stronghold over the ancient Via Cassia.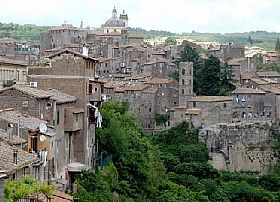 Sitting on a bluff near Viterbo, north of Rome, Ronciglione is a beautiful blend of Medieval, Renaissance and Baroque architecture in a compact space.