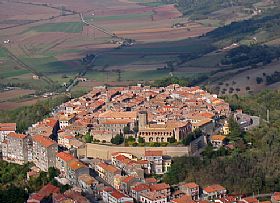 Valentano sits in a circular cradle on top of a hill surrounded by rolling landscapes near Lake Bolsena. West of Viterbo, it is in the territory of ancient Tuscania, the Etruscan zone, and the entire area was an archeological gold mine, with abundant traces of various ancient epochs found here. Most notable were the remains of the Romans with roads, country villas and a magnificent marble torso of Jupiter (now residing in a museum in Copenhagen).
The pretty country town of about 3000 inhabitants is clustered in medieval fashion with the prominent castle and tower presiding over it. Valentano is where Lazio melts into Tuscany, next to Lake Bolsena and the Apennines, in a pleasant breezy spot known for its "good air" which drew the Romans here for cooing relief from the city's summers. It is near Pitigliano, Tuscania, and Acquapendente.
At Villa Fontana was a templar residence with the church of Sancta Maria ad Templum. The castle that is so visible was first built around 1000 AD but underwent several modifications. In 1354 when the Farnese family took over the area, they transformed it into a regal residence and palace befitting their tastes and position, adding a Renaissance courtyard and frescoed salons under the direction of Antonio da Sangallo the Younger. The courtyard became known as the "cortile d'amore" for the wedding of Angelo Farnese and Lella Orsini, the joining of these two powerful families recorded in the stone by carving the family crests on the capitals. Other additions included an 11-arched loggia and the octagonal tower, along with a smaller rotund tower. The Farnese were forced to abandon the castle and area in 1649 due to wars with the Papal States. It later was used as a granary, a prison and a convent. After years of abandonment, the city took it over and renovated it, turning it into a library and museum.
The lovely town hall was built in 1552 and bears porticoes, the first in town to have this Renaissance feature. The monumental gate Porta Magenta still stands in place.
Been there? Done that? Share your experience and tips!
Haven't visited yet? Have questions about Valentano? Ask them here!
Explore nearby towns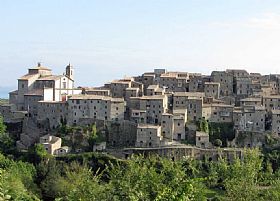 Onano represents the northernmost point of Lazio, near Viterbo, at the foothills of Mounts Volsini.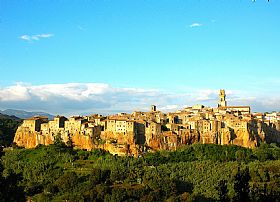 Pitigliano is a truly unique village in southern Tuscany, in the less-known Maremma district.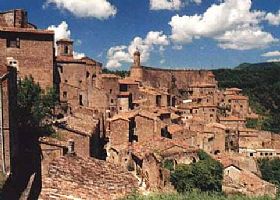 Let yourself be enraptured with the beauty of Sorano.