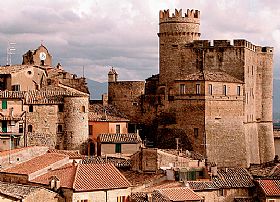 Nazzano is less than an hour north of Rome and yet a world away. The little town has been continually inhabited since the Bronze Age. Its spiral design encircling the hill that it occupies belies its Medieval soul, however, when Nazzano was an important stop on the trade route between the Sabina territory and the Imperial capital of Rome. Today, the atmosphere of the Middle Ages is almost perfectly preserved in the architecture of the historic center, with its buildings hunched up together cozily, and its character-filled archways and pathways decorated with ironwork.
The predominant symbol of Nazzano is its 13th century castle rising from the top of town, a solid stone fortification with an imposing circular tower attached. The temple of Sant'Antimo was cuilt on the ruins of a Roman temple, and the marble columns were salvage from that previous era. It is enriched with colorful frescoes. The church of San Francesco was a Benedictine monastery, said to have been built in 1299 by St. Anthony of Padova. And the church of St. Mary of Consolation was consecrated in 1488 but expanded in the 1600s, when it was given a light Baroque facade. Nazzano only has a lovely Gothic-inspired clock tower that tolls out the hours.
Outside town where the Tiber meets the Farfa River is the Tiber-Farfa Nature Reserve, a 700 hectare wetlands refuge that sees a host of migratory birds and is rich in local floral and fauna, which can be enjoyed along the many trails that wind through the park. There is a River Museum, and riverboat trips can be arranged to see the wildlife from the water. Within the park is an "agriturismo" that offers meals made from organic produce, hand-made pastas, and meats from the local valley.
Nazzano puts on two piazza parties each May - one on May 1 to ring in summer with the area's fresh broad beans eaten with rich Lazio pecorino cheese and washed down with local wine; the other is a polenta party, where huge cauldrons of the cornmeal specialty are stirred with a long stick and then served with rich tomato sauce on top.
Been there? Done that? Share your experience and tips!
Haven't visited yet? Have questions about Nazzano? Ask them here!
Explore nearby towns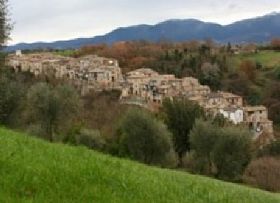 San Polo di Tarano is an ancient medieval village in the countryside but just 45 minutes from Rome.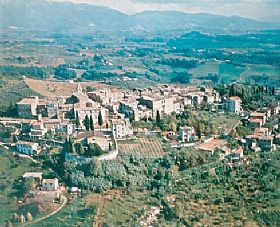 According to the legend, the origin of Collevecchio dates back to 1253, when a brief signed by Pope Innocent IV authorized the inhabitants of the marshy and infertile area of Muziano to move towards the healthier higher grounds.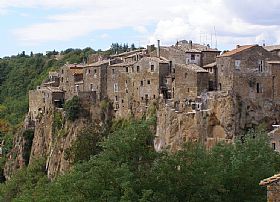 The medieval Calcata is perched on a rocky plateau which dominates the wood-covered valley of Treja, between Rome and Viterbo.