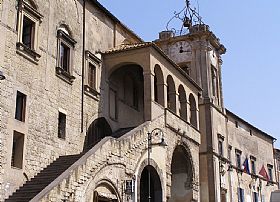 Tarquinia is a medieval city and internationally known archaeological site, the ancient Etruscan capital, in the heart of Southern Etruria. It stands up on a hill, in a beautiful panoramic position, at 133 metres above the sea level, overlooking the valley of River Marta and the Tyrrhenian Sea.
The great geographical position (at 90 km from Rome, 163 km from Siena, 250 km from Florence, 250 km from Pisa, 170 km from Perugia and 280 km from Naples) makes it a lovely stopping point to fully enjoy long-lasting tradition testified by the important archaeological and medieval findings, as well as the divers natural environment, like: the Maremma countryside, the sea, the close mountains of Tolfa and Cimini, along with the view of Mount Argentario and the Island of Giglio.
Walking around the city centre you will discover some fascinating corners: the high towers dominate Tarquinia, which is crossed by narrow streets that suddenly bump into large piazzas, where a lovely church is the background. The ancient town walls fall sheer to the rock, and then is an enchanting panorama where different colours merge beautifully together: the golden yellow cornfields in the middle of a verdant country, the rolling grounds showing various tonalities of brown until getting nearby the sea.
A number of Etruscan antiques is available to be admired in Palazzo Vitelleschi: Gothic-Renaissance architectural masterpiece recently become National Museum.
The pagan necropolis just outside outside the built-up areas, preserve some of the best examples of tomb art in the ancient world, comparable to the Egyptian ones.
At the foot of the city, the beach resorts of Marina Velca, di Spinicci, Tarquinia Lido, Sant'Agostino, Riva dei Tarquinii will let you have a fully comfortable bath in summer. There is a constant mild climate, even in winter, while the summer heat is mitigates by fresh breezes, making it favourable to sail and windsurf.
Been there? Done that? Share your experience and tips!
Haven't visited yet? Have questions about Tarquinia? Ask them here!
Explore nearby towns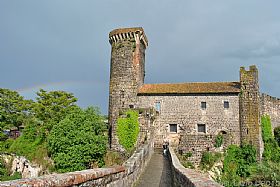 Montalto di Castro is a compact walled hill town in the province of Viterbo, just a couple kilometers from the Mediterranean Sea.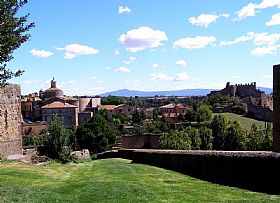 Tuscania is a lovely hill town at the edge of the Maremma Viterbese, close to the Lake Bolsena.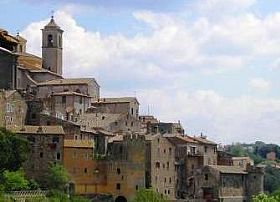 Vetralla is in an area known as Etruria, a land of ancient origins which skirts the border of Lazio and Tuscany.