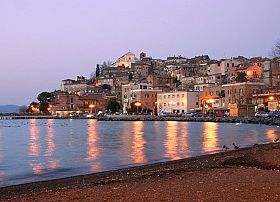 A hill above the south-western shores of Lake Bracciano (Lago di Bracciano) in northern Lazio, not far from Rome and Viterbo, holds the town of Bracciano.
It is definitely beautiful and worth exploring, even though the only official tourist attraction in Bracciano is Castello Odescalchi. However, the medieval lanes are romantic and evocative. Climbing the lane to the right of the castle walls, visitors will find themselves in a place that time seems to have forgotten: a warren of winding, sloping medieval lanes and alleys. Around the far side of this little hilltop is a pretty belvedere with lovely peaceful views over Lake Bracciano and the green countryside speckled with olive groves and woodlands. Bracciano is one of three towns that sit at the lakes' edge, along with Anguillara and Trevignano.
Piazza IV Novembre, the main square, is a pleasant, slow-tempo place to sit where local residents pass their free time. In one corner is a green tourist information kiosk (limited opening hours). If open, this can provide more information about the area and the small town museum, the Museo Civico. After the castle and the medieval quarter, Bracciano's principal attraction is the homonym lake, a walk or drive down the hill. Lake Bracciano is an impressively large mirror of water with volcanic origin and, for this reason it is rich in wildlife. Its fish and eels supply many fine local restaurants, indeed. The lake is pretty much "used" to practice water sports like swimming, sailing, canoeing and windsurfing.
The Church of St Liberato, one of the most notable churches in town, boasts an 11th-century bell-tower. Located just to the north of the town, it's now part of a commercialised complex offering fairytale weddings - contact in advance if you wish to visit. Most of the church dates back to the 15th-century, although a church was first built here long before, from the remains of the ruined Roman town of Forum Clodii. Inside, as well as relics of this long history, there are some appealing frescoes dating to the 15th century. The aristocratic owner Russell Page designed forty lovely gardens around the church, that you may wish to visit.
Been there? Done that? Share your experience and tips!
Haven't visited yet? Have questions about Bracciano? Ask them here!
Explore nearby towns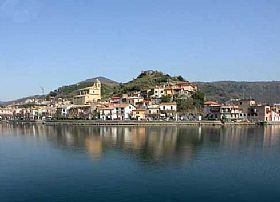 Trevignano lies along the placid shoreline of Lake Bracciano, north of Rome.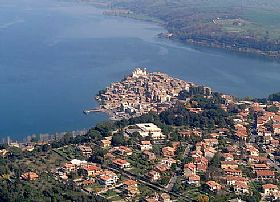 Anguillara Sabazia rests on the shore of Lake Bracciano, only 30 kilometers north of Rome but a placid world away.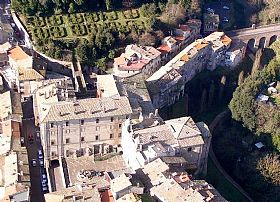 Bassano Romano is an attractive medieval town tucked between Lake Bracciano and Lake Vico, and protected by the Crimini and Sabatini mountains, north of Rome.