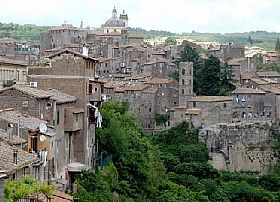 Sitting on a bluff near Viterbo, north of Rome, Ronciglione is a beautiful blend of Medieval, Renaissance and Baroque architecture in a compact space. It is built from the local tufo stone and, when seen from a distance, seems to grow spontaneously out of the rock on which it perches. Resting just south of Lake Vico, Ronciglione is near other interesting towns, such as Caprarola, Sutri and Capranica. It's near the provincial capital of Viterbo, as well as the Etruscan area known as Etruria (Vetralla and Tuscania being two of the primary towns in that zone). Ronciglione is surrounded on three sides by a deep gorge, making it a dramatic sight.
Ronciglione dates back to antiquity, but the current town dates back to around 1000AD. It was part of the Papal States but ruled by the powerful Anguillara family, until it was passed to the noble Farnese family, who united it to their vast holdings around Viterbo. It was under the Farnese that Ronciglione was endowed with many of its monuments. The family's crest can be found around town, distinctive with its series of fleur di lis (heraldic lilies). The grand gate known as Porta Romana gives an elegant entrance to the historic center. The Cathedral was built in 1660 by Carlo Rainaldi and bears clear similarities to his famous twin churches in the Piazza del Popolo in Rome. A fanciful unicorn fountain sits in the piazza between the cathedral and the town hall, topped with the famous flower of the Farnese. A formidable fortress still stands atop the town.
While it's famous for its agricultural products of chestnuts, hazelnuts and wine, Ronciglione is even more famous for its Carnevale, one of the oldest in central Italy. To open the festivities, the mayor gives the key to the city to the Carnival King, who rings in the week of madness that includes costume parties in the piazza, allegorical parades and a strange tradition of throwing pasta at passersby. The main event is a Palio competition initiated in 1465 by Pope Paul III Farnese, but unlike other Palios, this one is a riderless horse race. Food stalls dishing out local specialties and of course regional wines round out the celebrations.
Been there? Done that? Share your experience and tips!
Haven't visited yet? Have questions about Ronciglione? Ask them here!
Explore nearby towns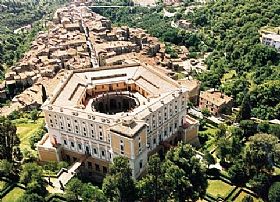 Caprarola is located on the south side of the Cimini Mountains to the east of the Lake Vico, perched on a tuffaceous spur near Viterbo.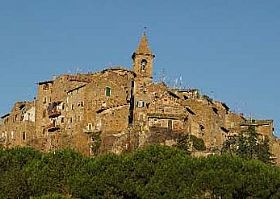 Capranica lies among the Cimini mountains atop a tuffaceous stronghold over the ancient Via Cassia.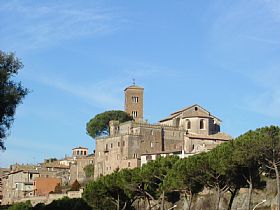 About an hour north of Rome but a world away from the crowds, Sutri is a historic town with loads of ambiance.