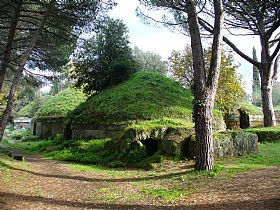 The Etruscan necropolis compound is often called the "city of the dead". It is located just a stone's throw from the city of Cerveteri which is easily accessed by autostrada from both Rome and the airport at Fiumicino yet is often almost barren of other visitors, giving it an uncrowded and almost eerie feel as you wander among the monumental tombs.
This area is composed of tuff hills a few miles from the sea and covers only a small portion of the ancient Etruscan burial grounds. Three adjoining hills contain grave areas which resemble an organized city, complete with recreated houses and a road system. This UNESCO World Heritage Site is known as the Necropolis of Banditaccia and extends over 800 acres, and 20 acres are open for visitors. The site is considered the largest ancient necropolis in the entire Mediterranean area.
The tombs date from the 9th century BC to the 3rd century BC and the style of tomb changes based on the age. Older tombs were simple pits in the tuff where ashes where housed, but later more complex structures came into style, the circular mounds cut into the tufa with rooms carved out of the rock, many of which were extensively decorated. Later styles were block houses alongside stone-paved roads with simpler square tombs. Pottery and other household items were often entombed with the dead.
Walking among the excavated portion of this "city" is amazing and makes your imagination run wild with why and how this ancient civilization built these lasting monuments to the dead. More is known of the Etruscan people from these types of tombs than from any other sources. It's a quiet and fascinating walk among the streets of an ancient site under umbrella pines with the songs of birds and the breeze as accompaniment.
The nearby "modern" city of Cerveteri is a bustling place with a nice historic center that still houses some palaces and is topped by its dominating castle. There are interesting churches and museums, along with restaurants and shops.
Been there? Done that? Share your experience and tips!
Haven't visited yet? Have questions about Cerveteri? Ask them here!
Explore nearby towns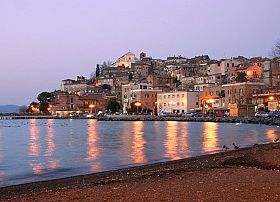 A hill above the south-western shores of Lake Bracciano (Lago di Bracciano) in northern Lazio, not far from Rome and Viterbo, holds the town of Bracciano.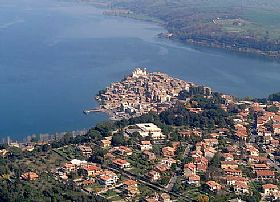 Anguillara Sabazia rests on the shore of Lake Bracciano, only 30 kilometers north of Rome but a placid world away.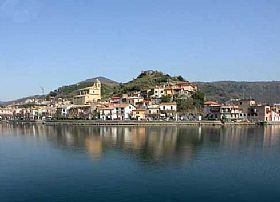 Trevignano lies along the placid shoreline of Lake Bracciano, north of Rome.