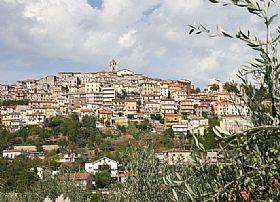 Fiuggi has perfectly preserved its rustic charm throughout the centuries, protecting the immense natural beauties from the risks of pollution. The thick chestnut woods are not just a great natural heritage, but also the best protection of its hydro-geological system. Located between Rome and Naples, Fiuggi enjoys an enviable climate. Streets, gardens, parks are elements of an harmonic mix of man-made and natural complexes that surround the precious waters and favour amusement and relaxation.
Originally called Anticoli di Campagna, the obscure conglomerate of stone buildings gained renown as early as the 1300s, when Pope Boniface VIII claimed his kidney stones had been healed by the mineral waters that gushed forth from the nearby Fiuggi spring. Soon the miraculous acqua di Fiuggi was being sent in bottles to all of Europe's royalty. Not until the turn of the XXI century did it become fashionable to make pilgrimages to spa towns, and it was around that time that the King of Italy renamed Anticoli in honour of its most celebrated attraction.
Today Fiuggi is a classic Italian hill town, beginning with its layout as two separate towns. Blanketing the slopes at 2500 feet above sea level is the medieval old town, called Fiuggi Città. At its feet is the XX-century spa town, called Fiuggi Fonte, where you can test the waters for yourself and admire many beautiful façades painted with the delicate Liberty style that was so popular in Italy from 1910 to 1930.
Fonte Bonifacio VIII and Fonte Anticolana are the main thermal resorts. Like all Italian spa towns, Fiuggi has lots of great shopping, and plenty of good restaurants serving healthy local food.
Been there? Done that? Share your experience and tips!
Haven't visited yet? Have questions about Fiuggi? Ask them here!
Explore nearby towns

Balancing on a ridge over the Sacco Valley, the town of Acuto retains its perfectly preserved medieval old town center.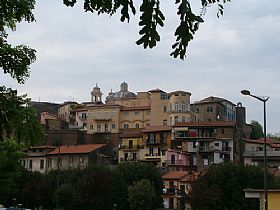 Originally an ancient city with pre-Roman roots, it grew during the Imperial period.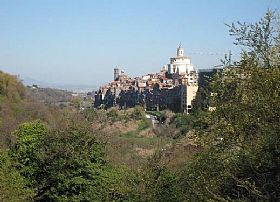 The attractive town of Zagarolo is just 36 kilometers from Rome but is far from the hustle and noise.