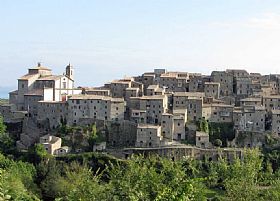 Onano represents the northernmost point of Lazio, near Viterbo, at the foothills of Mounts Volsini. Its particular shape makes it a quiet and isolated place. In fact, the village lies on a limestone hill at 500 meters above sea level and is surrounded by ditches. The first high-speed road, the Cassia, is more than 7 miles away, even if the links with major cities and the surrounding areas are frequent and efficient.
Then you are free to decide: to immerse yourself in nature and the evocative atmosphere of Onano or pushing in surrounding areas with ease. Strolling on the western slope, the steepness of the ditches causes a very curious effect: it goes, covering less than 200 meters above sea level from a height of 500 meters, to less than 400, which is very rare.
One should note the peculiarity of this name which is a palindrome, i.e., it is read from left to right or from right to left, the word remains unchanged. The origins of the name are uncertain, but two are the most credible hypothesis:
- According to the first hypothesis, the name derives from the Etruscan deity 'Uni', goddess of the cosmos, the Great Mother, who identified herself to the Greek goddess Hera and from which it came the Roman Iuno, Juno.
- The second hypothesis refers instead to Latin ending "anus" (genitive ending). It's probable indeed that the name Onano would remember the name of an ancient aristocratic landowner who had large estates in the area: Latin "Haunus" (nominative), Haunanus (genitive) (= a Haunus) medieval Haun / modern Honano, Onan.
It was feud of Monaldeschi della Cervara, who held the castle until 1561 which would also facilitate the social and artistic local life.
Subsequently, the village passed to several families including the family of rank Pacelli (present since 1700), which recalls the figure of Mark Antony, the founder of the Romano Observatory and Minister of Interior under Pope Pius IX. His nephew Eugenio, who became Pope Pius XII, spent his childhood in Onano. Among the famous people, must be included even the singer Lina Cavalieri, called the "most beautiful woman in the world" and her mother, Teonilla Peconi, in fact, had Onanesi origins.
The church of Madonna del Piano reserves the surprise of a fresco painted by Pastura in 1500, portraying a melancholic Virgin. Appreciable the frescoes of the Sienese school in the Church of Grace. For several years, are stepping up efforts to boost the typical production of lentils.
Been there? Done that? Share your experience and tips!
Haven't visited yet? Have questions about Onano? Ask them here!
Explore nearby towns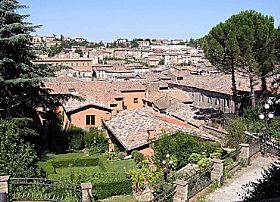 Acquapendente is a lovely town located right at the border of Tuscany, Lazio and Umbria.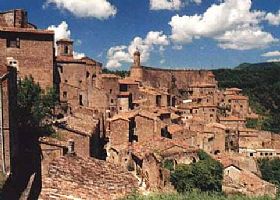 Let yourself be enraptured with the beauty of Sorano.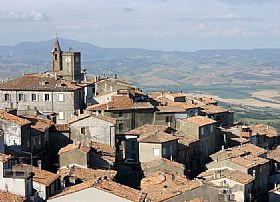 Perched on the slopes of Monte Civitella, Castell'Azzara is a charming village in a commanding position over the Paglia Valley.