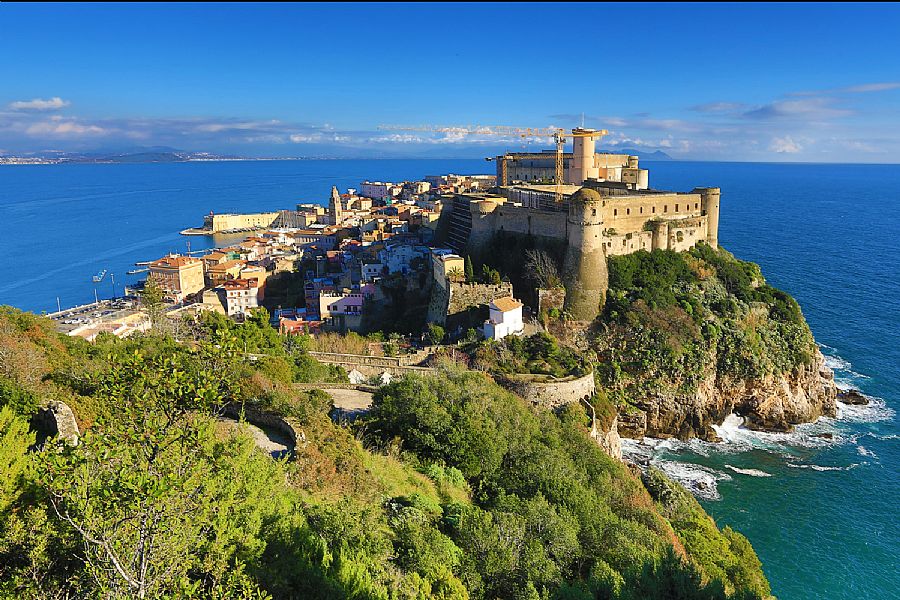 Located about halfway between Rome and Naples, Gaeta is one of those overlooked gems that should get more attention. The city sits on a promontory in the Gulf of Gaeta in a sunny, spectacular setting jutting out into the sea, an outstretched point that is almost an island unto itself.
The city is on the stretch of sea known as "The Gulf of Ulysses", below the rocky peak of Mt. Orlando. It is a land of legends, history and nature, with origins going back to the Greeks and Romans, with myths mingling with historical facts. It is known that it was a summer playground for consuls, emperors, and patrician families; there are remains of lavish Roman villas, gardens, and temples, and the mausoleum of Lucio Munazio Planco, a Roman consul who died in 22 BC, still rests on Monte Orlando. It was fortified under the Normans, and more heavily strengthened in ensuing years because of its strategic position between the Papal States and the Kingdom of Naples. It was considered "the gateway to the Kingdom of Naples" and also referred to as its "second capital city".
The town has that special combination of lovely atmosphere, genuine hospitality, and local life that makes it appealing. The tight narrow lanes of the historic center are charming, while its seafront promenade is a pleasant place to stroll and people-watch, as it is often packed with folks enjoying the sun and a passeggiata. The views are beautiful from the top of the old town as well as at the marina. There are two castles that guarded Gaeta - the Angevin castle and the Aragon castle. The port was (and still is) an important one for both naval and fishing fleets.
Borgo Elena is the old town of Gaeta, a delightful quarter of narrow lanes, little overhanging balconies, archways and small locally-owned shops and cafes.
Gaeta had once been known as "city of 100 churches". While they think it may refer to a cumulative number through the centuries, a census report from 1885 reported that there were 39 churches here, still a remarkable number for the size of the city! Today, there are still plenty of them to visit and discover as you meander around town. A few highlights:
Cathedral of Sant'Erasmo. Built in the 13th century, it incorporated remains of an earlier church, and it has an Arab-Norman bell tower that is adorned with interesting sculptural details of marine monsters, wind and other elements. The church has undergone several renovations in the ensuing centuries, but still bears some ancient elements and should be visited.
Church of San Giovanni a Mare. This little chapel was built in the 10th century and popular with fishermen and sailors because it could be reached by boat. The floor slopes notably toward the main door, built specifically that way to keep the church from flooding with sea water.
Church of San Francesco. A Gothic church that was part of a Franciscan monastery, it was built originally at the behest of King Charles II, and then enlarged and enriched with artwork by King Ferdinand II of Naples who was dedicated to the Franciscan order. It was Ferdinand, with the architect Guarinelli and Pope Pio IX, who gave it the neogothic look you see. It is an elaborate, beautiful church.
Don't miss the Sanctuario della Santissima Trinita' (Sanctuary of the Most Holy Trinity), for its gorgeous setting. It is located at the so-called Montagna Spaccata (Split Mountain), which is itself one of Gaeta's primary sights. The mountain has three clefts, which local lore holds was split into three parts in the earthquake that rocked the world at the moment of Christ's death. Go down the steep (and somewhat torturous!) staircase that leads to the Grotta del Turco, a natural cavern chamber where sea water washes in. It is an incredible sight! The chasms of the Montagna Spaccata are popular with climbers.
The coastline between Gaeta and Sperlonga is called The Coast of the Seven Beaches, so be sure to spend a day at the beach and enjoy the clear water and golden sand.
Local foods to try are the Tiella Gaetana, a sort of savory pie that combines pizza dough with whatever is at hand, a useful and ingenious way to use leftovers (or, as the say, a peasant's way to use what they had!) - combining fish or meat pieces, vegetables and bits of cheese or salami into a tasty calzone-type pie. Gaeta olives are violet-colored olives that are prized all around Italy. Alici sotto sale are fresh-caught anchovies that are preserved in salt (no resemblance to the canned variety you buy). Fiordilatte is a rich mozzarella type cheese. The giant red-tinged Romanesco artichokes and Latina kiwi are locally grown. Try the Moscato di Terracina, a fruity highly aromatic wine that comes in a dry as well as sweet variety.
Been there? Done that? Share your experience and tips!
Haven't visited yet? Have questions about Gaeta? Ask them here!
Explore nearby towns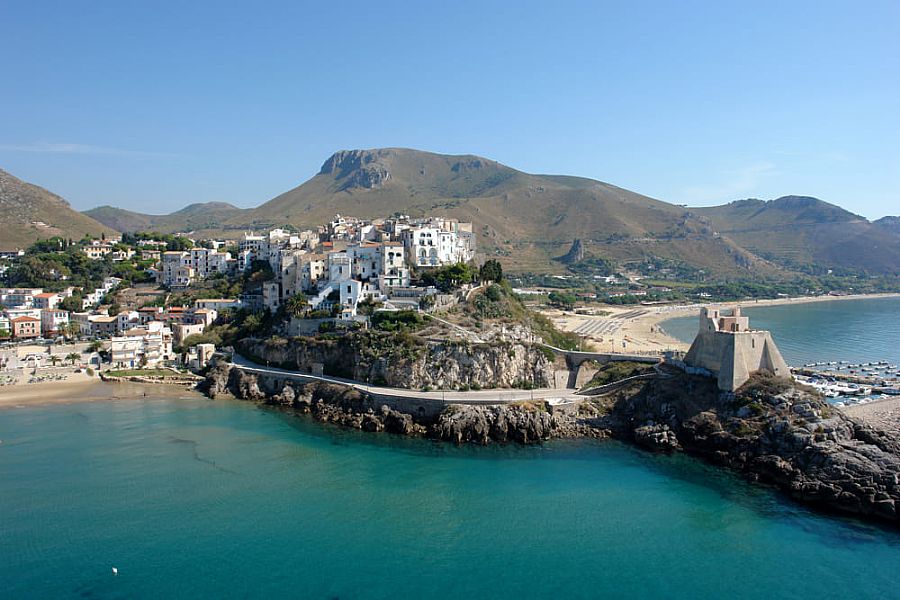 A beautiful coastal town on a hill above the sea near Gaeta, the old town is a charming warren of lanes.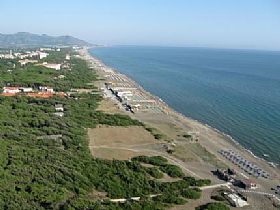 A planned beach resort that deliberately left the waterfront mostly undeveloped provides plenty of sandy stretches and a natural feel.

Straddling the border between Lazio and Campania, the city of Sessa Aurunca has found itself at strategic crossroads throughout its very long history.