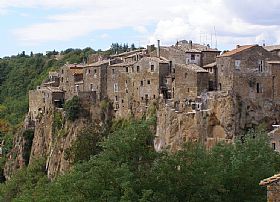 The medieval Calcata is perched on a rocky plateau which dominates the wood-covered valley of Treja, between Rome and Viterbo. The historic center is not open to cars and you can enter it through an arched double gateway surmounted by the crenelated walls of the baronial Palazzo Anguillara.
Since the XIII century BC, as shown by the nearby archaeological settlement of Narce, it was an important Faliscan centre (Falisci was ancient Italian tribe who lived in what are now southern Tuscany and northern Latium. They spoke an Italic language, Faliscan, closely akin to Latin).
The Falisci settled around a great part of the Tiber area, and later moved to the souther Etruria in a zone called Agro Falisco. Further on this population went under the political, cultural and even artistic Etruscan rule. The arcopolis of Narce used to rise on top of the hill overlooking the River Treja, and shows important findings dating back to different ages.
Two elements make this place so fascinating: religion and esotericism! Every 31st of October, it is celebrated the local "Notte delle Streghe" (night of the witches) and in occasion of the Summer Solstice – St Giovanni's eve – the "Circolo Vegetariano di calcata" celebrates the Magica Notte delle Streghe, recalling pagan rites, archaic music and dances, contemplation of nature.
The parish church preserves the relics of the Holy Prepuce, and a cruet containing the oil used to grease Jesus Christ's feet.
Calcata is today a picturesque medieval village, one of the best kept around that area, with narrow alleys winding among small houses and ancient cellars, recently restored and used to house souvenirs, antiquities and artisan's shops. Paying attention you can still admire the ancient windows, portals and famous medieval "profferli" (external ramps), some of the mixed to the modern constructions.
Then you see courtyards, cats sitting on ramps and window sills, terraces looking over the valley and you are immersed in silence: This is Calcata, where time seems to stand still. The old inhabitants have given way to artists, writers and scholars coming to Calcata from everywhere in the world, with the aim to fully enjoy that evoking peace and tranquillity. Calcata does not offer great monuments, except for the castle (currently under restoration works), but many small elements... a magic mix that makes it so special!
Along the alleys you will suddenly see dome marvellous views of he valley, sometimes preceded by arches and tuff stairs. The Parco Suburbano Valle del Treja, located just below the village, is a protected area boasting a huge historical and naturalistic value.
Been there? Done that? Share your experience and tips!
Haven't visited yet? Have questions about Calcata? Ask them here!
Explore nearby towns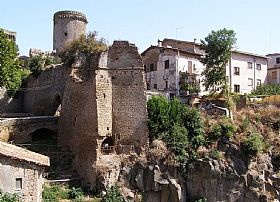 Nepi is a lovely town north of Rome near Lake Bracciano.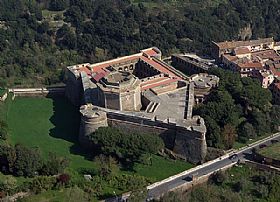 Civita' Castellana is a truly ancient town in northern Lazio, near the Umbrian border.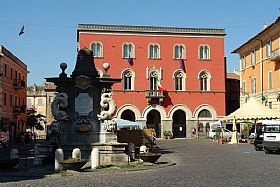 A pretty town in the gentle Lazio hills north of Rome, Campagnano di Roma retains the atmosphere of the Middle Ages.