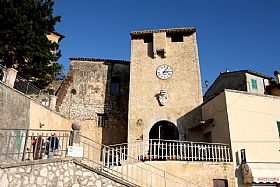 Vacone is a tiny town in the Sabine Hills north of Rome. It is in the Rieti province in the Upper Tiberina Valley, an area once inhabited by the ancient Sabine people. It is a land steeped in mythology. The town is named for Vacuna, the Sabine goddess and daughter of Sabo, from the ancient Sabine mythological stories.
The clearer history dates to the late Roman Republic era when Julius Caesar organized a military outpost in the area, during the Roman- Sabine wars. A Roman settlement sprang up and ruins are so abundant that the University of Rutgers has an Archeology Field Study facility here, where students come to learn excavation techniques, field record keeping and archeological preservation.
Some of the sights to see include the Fonte Bandusia, an ancient fountain cited by Orazio (Horace) during the Roman era and still in use. Horace had a country villa in this area. The mysterious Sacred Woods of Pago, also known as the Lucas Vacunae, with ancient trees and almost other-worldly atmosphere in the forested hills outside Vacone. The castle above town dominates the hill top, while the church of San Giovanni Evangelista was built in 12th century and redecorated in Romanesque style in the 1500s.
The area is full of hiking trails, an air of mystery and a long ancient history. But Vacone is probably best known in recent years for its unique and popular restaurant, Ristorante Solo Per Due, a romantic place that serves only one couple at any meal! The town holds an annual festival every June celebrating its ancient heritage with the Sacra Vacunae, that highlights the costumes, stories and feasts of ancient Rome.
Been there? Done that? Share your experience and tips!
Haven't visited yet? Have questions about Vacone? Ask them here!
Explore nearby towns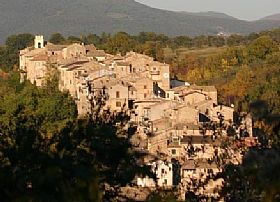 Tarano is a charming village located in the Sabina (near Rieti), on the slopes southwest of the mount Cosce, in the hilly area between the River Tiber and the middle valley of the river L'Aia.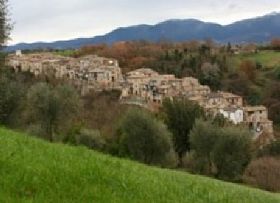 San Polo di Tarano is an ancient medieval village in the countryside but just 45 minutes from Rome.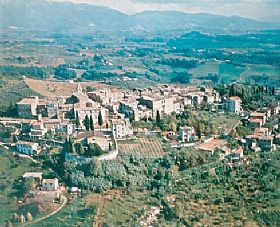 According to the legend, the origin of Collevecchio dates back to 1253, when a brief signed by Pope Innocent IV authorized the inhabitants of the marshy and infertile area of Muziano to move towards the healthier higher grounds.