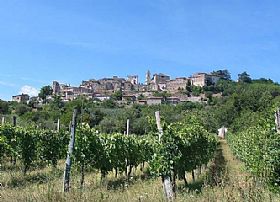 The stone hill town of Castiglione in Teverina stradles the border of Lazio and Umbria, occupying some of Italy's attractive rolling landcape. It's a particularly panoramic setting, at the foot of Mount Volsini in the Tiber river valley. It is situated on a travertine hill, while below lie fertile fields and ordered rows of vineyards. The area is known for its wine production, especially Colli del Tevere DOC, Aleatico (a local heritage varietal) and Orvieto DOC. The town plays host to an annual wine festival every August, and there is a Museo del Vino aptly located along the Strada del Vino (wine road) that runs between Castigliano and Lake Bolsena.
The strong, solid Monaldeschi castle still stands guard over the town, built by the powerful Monaldeschi family in the 14th century as a defensive fortress. The travertine-constructed stone building provides an attractive backdrop to Castiglione's historic center, where there are several lovely churches to visit and pretty alley-streets to wander around in the Old World atmosphere.
This area of northern Lazio and southern Umbria was the stomping grounds of the Etruscans, Romans, and Longobards, who all left their marks and artifacts. Legend holds that at the fall of the Roman Empire, freed slaves fled the capital city and came to Castiglione to escape persecution from the barbarians. Nearby are Etruscan necropoli and the fascinating vie Cave, which are pathways sliced through the rock terrain, making narrow stone open-air corridors. They were ceremonial paths for the Etruscans.
The landscapes are lovely - rolling hills, soft plains, and nearby lakes lend a unique atmosphere, and there are wildlife, water fowl, and wild flowers in abundance. Some of Umbria and Lazio's most interesting towns are easily reached from Castigione: Bagnoregio, Bomarzo, Todi, Orvieto, Narni and Lake Bolsena are just a few highlights in the vicinity.
Been there? Done that? Share your experience and tips!
Haven't visited yet? Have questions about Castiglione in Teverina? Ask them here!
Explore nearby towns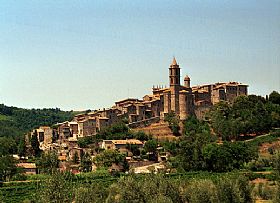 The lovely village of Baschi is a perfectly preserved medieval hill town, well worth a detour to wander the narrow lanes and soak in the Old World atmosphere.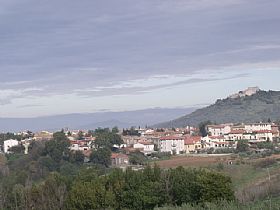 Guardea rests on a hillside in Umbria where the region brushes up to northern Lazio.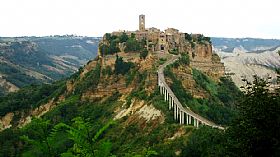 Bagnoregio means "royal bath," alluding to its importance as a thermal spa two millennia ago.