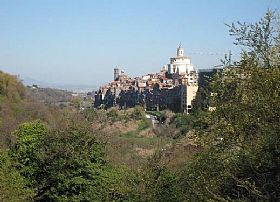 The attractive town of Zagarolo is just 36 kilometers from Rome but is far from the hustle and noise. Built on a a tufa bluff, it is surrounded by woods but has fantastic views from its lofty position. The old town is delightfully medieval and its town planning, dating back to the sixteenth century, gives it a harmonious appearance that is not usually found in other cities of the time. It has palace-lined streets, appealing piazzas, and an overall appealing atmosphere. Since it's close to Rome, it maintains an affluent, hip feel while many residents commute to the city, but retreat to their tranquil town at night. It keeps a lively civic life, though.
There are shops, restaurants and grocery stores throughout the town center, along with sidewalk cafes for enjoying a cappuccino or a glass of wine while watching the people go by. While Zagarolo is in commuting distance of Rome and is near Frascati and the Castelli Romani, it has its own sights worth seeing, too.
The Tondo, on the edge of Zagarolo, is a Roman site that was once a gladiator training camp. Palazzo Rospiglio is an historic residence that was originally built as a medieval castle. It was a 12th century defensive structure belonging to the influential Colonna family. It was sacked several times through the centuries during rivalries between the Colonna and the papacy. Eventually, it became a palazzo residence instead of a protective castle, and was modified and given opulent touches. The Colonna gave Caravaggio refuge here as he fled Rome for Naples in 1606, and it was here that he created two masterpieces, The Supper at Emmaus and Mary Magdalene in Ecstasy. It was commandeered by German forces during WWII. Today it houses the civic library and a delightful Toy Museum, and also hosts ceremonies and receptions.
The Church of San Lorenzo in Piazza del Risorgimento is dedicated to Zagarolo's patron saint (St. Lawrence) and bears a simplified Romanesque facade. The Church of Annunziata is distinguished by the tall octagonal bell tower that rise next to it. And the Church of San Pietro forms the town's most distinctive landmark with its drum-shaped drum that stand out above everything.
Zagarola is known for its Sagra del Uva, an annual festival dedicated to the grape. The harvest and wine fest, held every October, features music, parades, food and of course, vino.
Been there? Done that? Share your experience and tips!
Haven't visited yet? Have questions about Zagarolo? Ask them here!
Explore nearby towns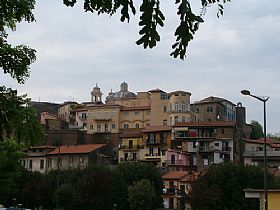 Originally an ancient city with pre-Roman roots, it grew during the Imperial period.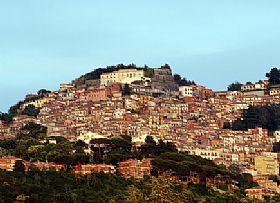 Rocca di Papa is an interesting town with a telling name.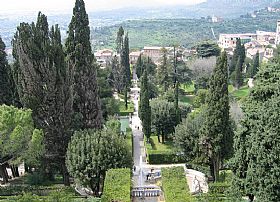 The ancient Tibur Superbum, as per Virgil's definition, is located at the foot of Mounts Tibutini, west side of Rome.