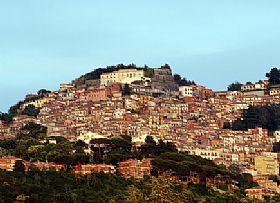 Rocca di Papa is an interesting town with a telling name. It literally means "rock of the pope" with the "rocca" referring to the fortress built by Pope Eugenio III in the 1100s. Rocca di Papa is a vertical town, its pastel-painted houses lined up in steep streets on the rocky hill. At the summit is the famous fortress that has been the refuge and retreat for many popes. It is the highest town in the area south of Rome at 700 meters above sea level, with gorgeous views.
The town is located in the beautiful Castelli Romani district, an area of volcanic origins with hills and lakes. It is on the east side of Lago Albano, a crater lake, while on the opposite side is Castel Gandolfo, the famous papal summer residence for centuries. It is within the Parco dei Castelli Romani, a park that offers nature trails, pretty hill towns, woods, and diverse activities.
As you might expect, this papal town has a host of churches to explore, each one different. The Chiesa del Sacro Cuore is a Gothic church with nice stained glass. The historic center is decorated with a series of murals that are worth viewing. The Geophysical Museum is housed in the castle, dedicated to scientific discovery, focusing on modeling of the earth's interior, geology, geography and terrestial exhibits and data. Marconi did some of his experiments here.
The Fontana della Barcaccia is a boat-shaped fountain in the piazza that is attributed to Bernini, carved from a single block of tufo stone. The Via Sacra is an old Roman-paved road that leads through the woods, that once transported Roman pilgrims to the temple. It is still a nice walk on an ancient road. Nearby in Ariccia, are the Palazzo Chigi and the Fontana del Bernini. The entire Castelli Romani area is worth exploring as a landscape of natural beauty studded with stunning villas.
Been there? Done that? Share your experience and tips!
Haven't visited yet? Have questions about Rocca di Papa? Ask them here!
Explore nearby towns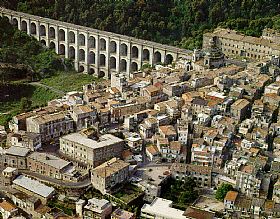 Ariccia is a lovely town in the beautiful hills of the Castelli Romani south of Rome.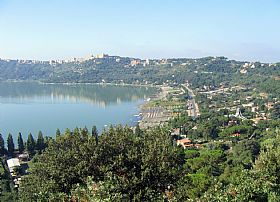 The beautiful setting of Castel Gandolfo has made it a popular retreat for centuries.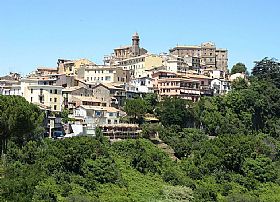 Spread out over a volcanic plateau above Lake Nemi, Genzano di Roma is a typical Medieval hill town.