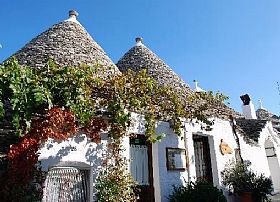 Puglia (also called Apulia) basks in Italy's southern sun and is a land of extremes. Deep sapphire waters offset intensely white towns; exaggerated miles of olive trees cover the horizon, sprinkled with compacted little towns; peasant art is contained within grandiose architectural jewels. It's also a land of superlatives - many contend that it's the region with the friendliest people, the best food and the cleanest beaches.
The slender southeastern peninsula has seen a diverse host of occupants throughout the centuries - the Greeks followed by the Romans, then the Goths, Lombards, Byzantines and Normans stomped all over poor Puglia. But the resilience and determination of its people and the blending of all these epochs of history give today's Puglia an exotic feeling, and the sun and sea seem to energize them, as seen in their exaggerated gestures, the volume of their conversations and their gregarious laughter. Towns seem to burst with life.
Italy's stiletto heel is surrounded by 500 miles of coastline on two seas - the Adriatic and the Ionian. Despite the water, the climate is semi-arid. Aside from a few hilly areas, Puglia is mostly an outstretched plain with miles of undulating wheat fields. It is also Italy's biggest olive oil producing region. The sun ripens the country's fruits and vegetables, too - it's a veritable hot-house of tomatoes, eggplant, peppers, figs, citrus, melons and almonds. The sea gives it a long-standing fishing tradition and the seafood specialties are phenomenal. Vegetable-based dishes play a predominant role in Puglia's culinary repertoire. Excellent wines are produced from heritage grapes - some of them brought here a few millennia ago by the Greeks. Try Negroamaro or Primitivo for a taste of the Puglian sun.
Puglia is often associated with its architectural peculiarity - the trulli. These whitewashed rural homes are surmounted by conical teepee-like roofs made from stacked stones without mortar. The main concentration of trulli is found in the Valle d'Itria area; the town of Alberobello alone boasts more than 1000 of these curious dwellings. Another interesting construction tradition is the masseria - a fortified country farmhouse complex similar to a Spanish hacienda with an interior courtyard and the exterior walls forming a protective perimeter. You'll find them dotted around the countryside of Puglia. All over the region, the houses and towns are swathed blindingly white, punctuated by crimson blooms in flower boxes.
The Gargano is a dramatic cave-pocked promontory full of coves and spectacular scenery. It's a summer destination especially popular with some of Italy's glitterati. The Foresta Umbra is a 1000-hectare park of ancient pines, oaks and beech, reminders of how wooded Puglia once was. The forests drew the Emperor Frederick II to this part of his empire where he built the unusual octagonal Castel del Monte as his hunting lodge. The Gargano gives way to the Murgia, where rippling plains are striped with strange narrow canyon-like ravine formations. Altamura and Gravina are examples of Murgia towns. Bari's busy port is the gateway to the historic center where a Spanish-style fortress, narrow streets and charm beckon visitors. The Valle d'Itria is marked by vineyards and olive groves that are hemmed in by low dry-stone walls. White towns like Locorotondo, Alberobello and Ostuni give glimpses to small-town life with a flash of flair. The Salento is the pointy part of the heel, characterized by beaches, white limestone cliffs full of coves and inlets, and panoramic towns perched above the sea. Elegant towns like Trani, Lecce, and Martina Franca surprise visitors with Baroque splendor and a sophisticated feel.
Puglia is full of surprises and delights - it's fabulous food, historic towns, beautiful beaches and gracious residents delight visitors, who always leave uttering superlatives of their experiences there.
Been there? Done that? Share your experience and tips!
Haven't visited yet? Have questions about Puglia? Ask them here!