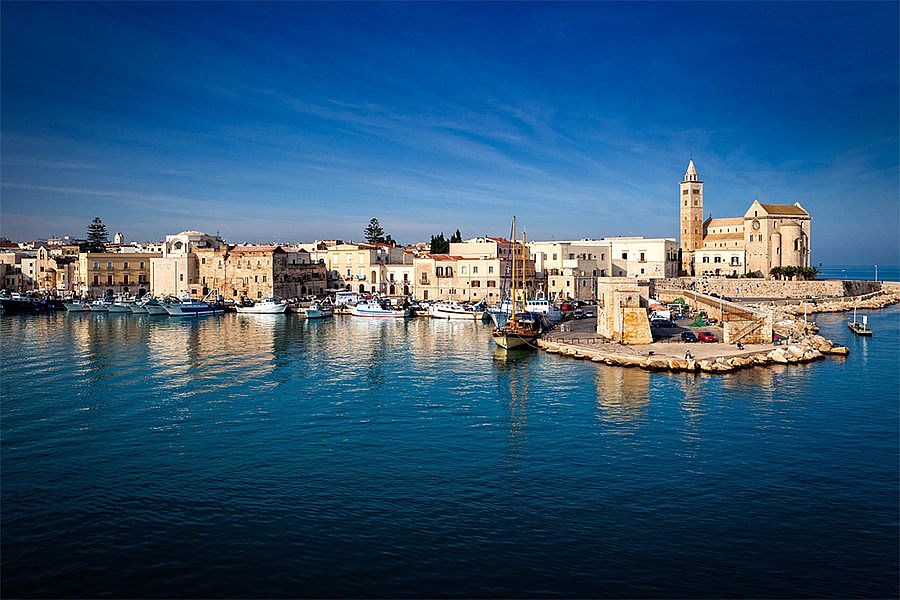 An overlooked gem on Puglia's Adriatic Coast is Trani, a beautiful place worth visiting. Adorned with a gorgeous cathedral and a glittery waterfront, Trani offers loads of atmosphere and some great sights.
The town dates to about 1000 AD and became an important port city. Frederick II fortified it with a castle and protective walls, and it had a large, active Jewish population in the Middle Ages, at one time boasting four synagogues. Today, two remain; one, Scola Nova, dates to about 1240 has been reopened and functions as an active synagogue. The other, Scola Grande, had been converted to the church of St. Anna when the Jews were expelled, but now that church is home to the Diocesan Museum, which offers a Jewish art section. Trani had a bustling "giudeca" district, a Jewish neighborhood (not to be confused with a Jewish "ghetto", which was a closed section.) Traces of the once-rich culture can be seen in those sights, as well as places that bear names, like Piazza del Sinagoga and Via Giudeca.
The cathedral is the focal point and primary landmark of Trani, a pink-hued stone structure that sits right on the waterfront. It is built in a distinct Pugliese version of Romanesque style, with intricately-carved portals, doors and window settings. Don't miss the lower level, which is surprisingly more ornately decorated than the main sanctuary.
The town's park, called Villa Comunale, is a nice green space with a promenade along the sea and a beautiful view of the cathedral from the quay (called il Fortino).
Trani is still an active port, with pleasure boats and a fishing fleet -which means super-fresh seafood on the tables! Don't miss a chance to sample the delicacies that Puglia is famous for. It has about 56,000 residents, so there is plenty of cafes and restaurants and shops to enjoy, too.
Trani is north of Bari and near the fascinating castle built by Frederick II, Castel del Monte.
Been there? Done that? Share your experience and tips!
Haven't visited yet? Have questions about Trani? Ask them here!
Explore nearby towns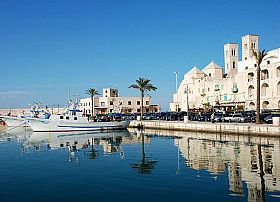 Molfetta suns itself on the Adriatic Sea in Puglia, midway between Trani and Bari.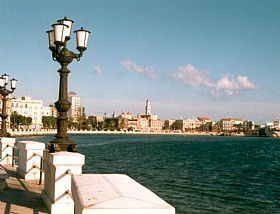 Bustling Bari is the south's seaport city and center of commerce.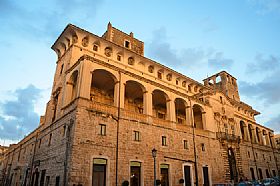 This small city south of Bari offers some unexpected charms and treasures.