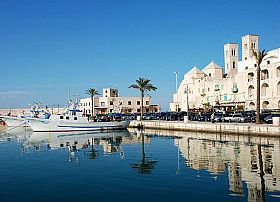 Molfetta suns itself on the Adriatic Sea in Puglia, midway between Trani and Bari. The port has always harbored an active fishing fleet, right up to today. During the Middle Ages Molfetta's port placed it into the trading world amidst great cities like Venice, Alexandria and Constantinople. The city enjoyed importance and prosperity, which still reflects in the architecture and atmosphere. The streets of the center weave and curve, leading to piazzas. Wander amidst the archways and alleyways decorated with balconies and stone details.
The medieval center starts at the port, where the impressive cathedral is practically lapped by the waves. Dedicated to San Corrado, the imposing milky-colored church is flanked by two tall towers and topped by three cupolas. It is a beautiful backdrop on the sea, built in a distinct Puglian version of Romanesque style. Inside it is spare and yet monumental. The Basilica of the Madonna of the Martyrs is the oldest church in town and contains lovely artwork as well as a sculpture of the Holy Sepulchre that is worth seeing carved from stone transported from the Holy Land. Adjacent was a hospital for the crusaders, built to serve and cure the pilgrims and crusaders who passed here on the route to and from Palestine as Molfetta was on the sea route.
Molfetta is small enough to be friendly and welcoming but large enough to offer a vibrant spirit. There are sandy beaches for surf and fun, and summer rolls in a full-blown party atmosphere. Because of its fishing tradition, this is a great place to enjoy the bounty of the Adriatic Sea in one of the many seafood restaurants. The town is the scene of a big Festa del Mare (Sea Festival) in September. For thrill-seekers, the Miragica Park is southern Italy's only amusement park, sporting rides, games, shows, food, and fun.
Been there? Done that? Share your experience and tips!
Haven't visited yet? Have questions about Molfetta? Ask them here!
Explore nearby towns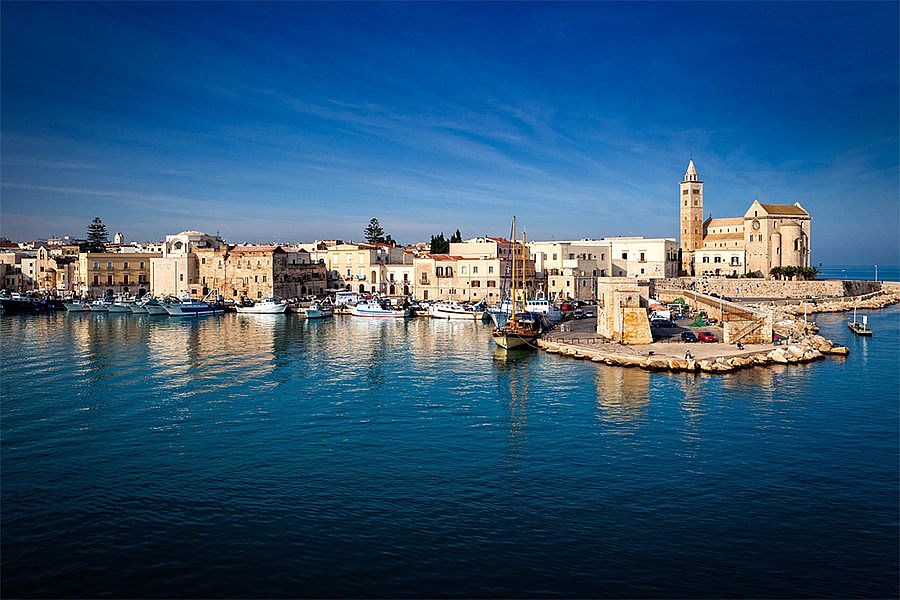 An overlooked gem on Puglia's Adriatic Coast is Trani, a beautiful place worth visiting.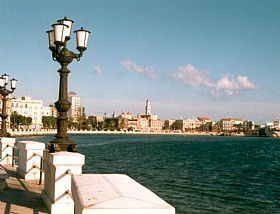 Bustling Bari is the south's seaport city and center of commerce.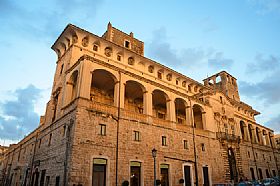 This small city south of Bari offers some unexpected charms and treasures.