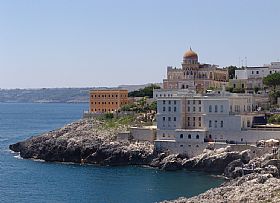 On the Adriatic coast where low green-forested hills end in white cliffs at the water's edge, Santa Cesarea Terme stills like a glittering white gem. Perched on the tufo bluff, tall, slender houses stand right up to the drop-off and the town seems have grown up naturally out of the rock. This stretch of coast is beautiful - undisturbed natural woods and meadows end at the emerald water. The entire zone was once covered by thick forests, and the rough terrain kept it from being over-developed through the centuries. Today, emphasis is placed on respecting the natural landscape. In fact, the zone is part of a protected regional coastal park.
The town itself has ancient roots dating back to the Greeks and was noted for its natural sulfur springs as early as the 2nd century BC, but it didn't really develop as a city until the 19th century when the upper class from the nearby city of Lecce starting building homes here as vacation getaways and spa retreats. The architectural rage in vogue at the time was a revival of Moorish style with highly decorative elements. An ornate example is the Palazzo Sticchi, with its porticoes and loggia and sculptural details carved in local stone. Villa Raffaela, built by the Baroness Raffaella Lubelli, boasts an octagonal tower and a panoramic terrace, among other streaks of fancy.
The town has a museum dedicated to the sea, testifying to its importance. But the main industry is the thermal waters that bubble up naturally at a temperature of 30 degrees celsius in several of the caves. They are rich in sulfur and the waters and resulting mud are prized their curative properties.
There are four coastal defensive towers in the area, constructed on the orders of King Carlo V to ward off pirate raids on this part of the sea. They still stand tall and make dramatic backdrops for sunbathers. The rocky cliffs below the town are punctuated by caves and quiet coves. There are some interesting rock formations and arches at the water level. It's worth exploring by boat to really see the coastline's beauty.
Santa Cesarea Terme has many excellent restaurants and some smart caffes. It is close to the beautiful Baroque city of Lecce and the coastal castle town of Otranto.
Been there? Done that? Share your experience and tips!
Haven't visited yet? Have questions about Santa Cesarea Terme? Ask them here!
Explore nearby towns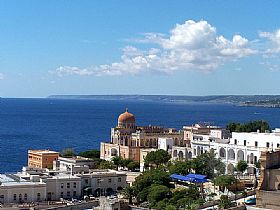 Located in the Salento sun of Puglia's south, Cerfignano sits just inland from the Adriatic Sea.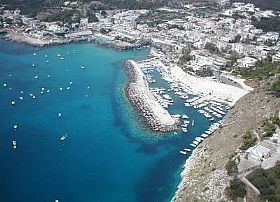 Castro rests on the rocky shore of the Adriatic, on the stunning Salento coast.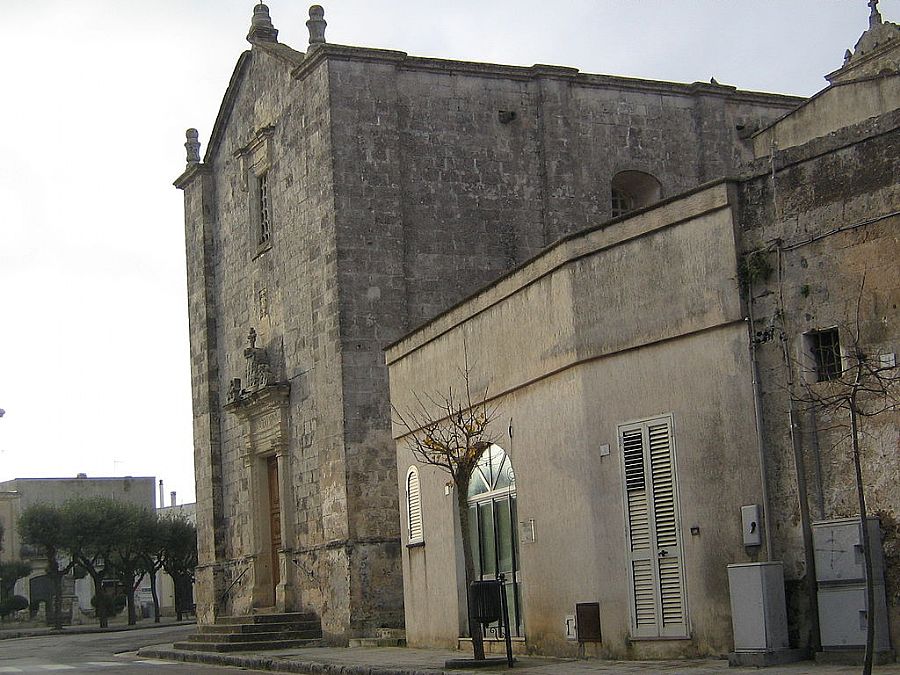 Diso sits just inland from the Adriatic Sea, and was a place of refuge for local populations during times of coastal attacks.