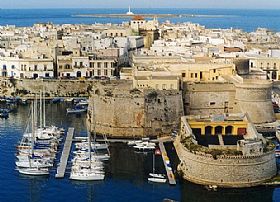 The city of Gallipoli- Greek for 'Beautiful City'- is a pearl in the blue waters of the Ionian Sea. The port has established it as a maritime town for centuries; it still has an active fishing trade. It was a trade port with ties to Orient, as seen in some of the decorations and touches around town. The elegant old center hints at its once important past.
The historic core is actually on an island and is reached by a bridge. It was walled to ward off attacks in the Middle Ages; then the walls were heightened in the 19th century to add the scenic road that allows for fantastic views up and down the coast. There is a lively fish market daily under the bridge where locals go early to get the fresh catch. Just across the bridge is the Greco-Roman fountain, said to be the oldest in the country.
The historic center is awash in churches, counting more than 10 in the compact space. The fanciful baroque Basilica of Sant'Agata with an accompanying bell tower behind is the most impressive, while San Francesco is the oldest. It contains a famous wood sculpture of the Two Thieves. The squat castle on the point is a beautiful backdrop for the sailing marina and the sea.
The beaches are known throughout Italy as some of the cleanest around, with colorful rows of umbrellas and bright seafront bars and restaurants decorating them in the summer.
Gallipoli still has an active fishing trade yet has an upscale, vibrant feel to it as well. The residents enjoy their strolls around town, meeting for gelato and sipping aperitivi at outdoor cafes. There are loads of excellent restaurants and some nice shops.
Been there? Done that? Share your experience and tips!
Haven't visited yet? Have questions about Gallipoli? Ask them here!
Explore nearby towns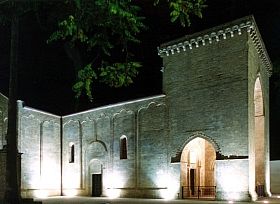 Alezio is a town in the Salento of Puglia, just a few minutes from Gallipoli and the Ionian Sea.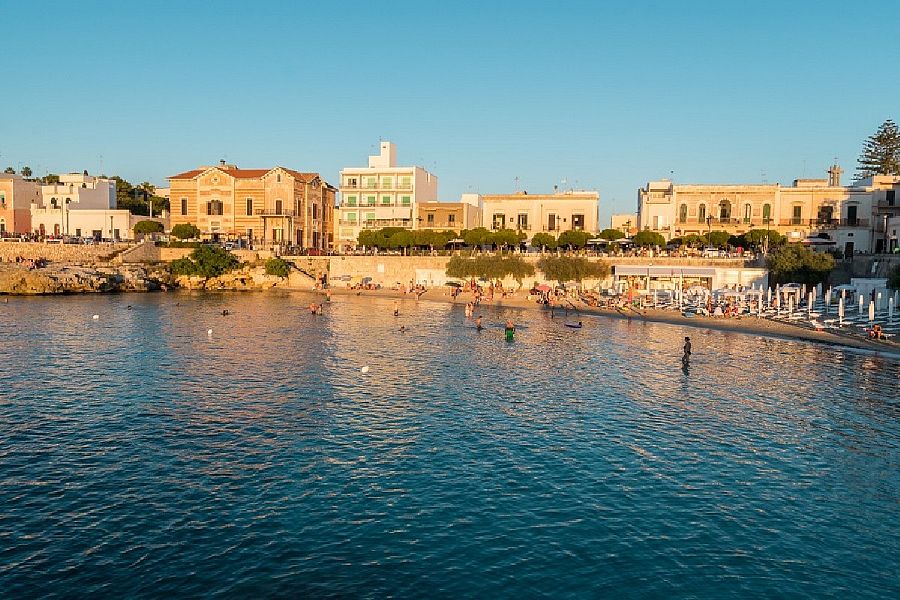 What seems like an ordinary seaside town actually holds some impressive history along with its beautiful waterfront setting.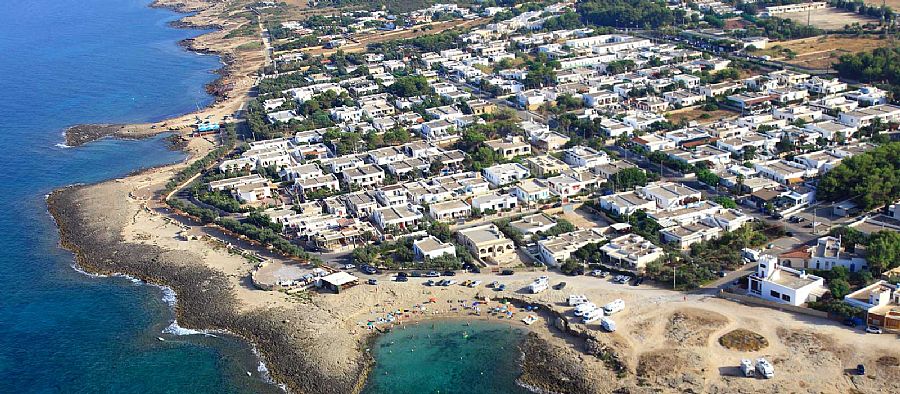 The beach resort for Taviano offers a couple of kilometers of coastline along Puglia's Ionian Sea.