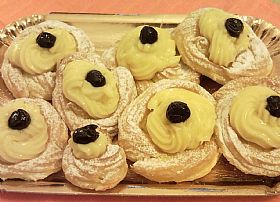 Saint Joseph's Day is March 19, which is also Father's Day in Italy. It makes sense when you remember that St. Joseph was the father of Jesus. While kids might make a drawing for their days, the real highlight of the feast of San Giuseppe is the dessert, called zeppole. These traditional sweets are particularly popular in southern Italy from Abruzzoon down to Calabria and Puglia. It's especially cherished in Naples, land of sweet treats, where it likely originated. It was a form of Neapolitan street food, sold directly from the fryer.
While the word zeppole is also sometime used for sugar-coated donuts, the real Zeppole di San Giuseppe is a sweet dough that is fried and them topped with pastry cream and a cherry. Sometimes now you'll find baked versions to reduce the fat and caloric intake, but traditionalists will tell you it's not the same. In Naples, the name Zeppola is used also for their tasty fried bread nuggets, which are salted, sometimes with a bit of herb or anchovy inside.
Here in Italy, a person's saint day is just important as their birthday, so anyone named Joseph or Giuseppe, this is your day! Buona festa di San Giuseppe, and Happy Father's Day to all of you dads out there!
Been there? Done that? Share your experience and tips!
Haven't visited yet? Have questions? Ask them here!