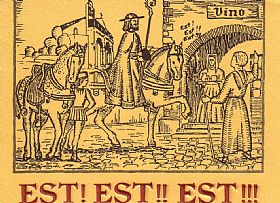 The stereotyped image of the Roman 'osteria' is so captivating to condition for centuries the whole regional wine production. The wine in Rome has always been considered a fundamental element to create a joyful, relaxing and delightful atmosphere, but this consideration has dominated chronicle and literature, so that nobody has ever dreamed to do something qualitatively better!
The huge metropolis of Rome has always absorbed all the wine coming into its taverns, for millenniums and wherever it came from, to stock the local 'thirsty' osterias. This fact has slowed the development of an autochthonous oenology, always in contrast with flourishing international trades, whose epicentre was in fact Horrea Galbae (30 hectares big warehouses in the southern part of ancient Rome, located between the southern end of the Aventine Hill and the waste dump of Monte Testaccio).
Actually, people in Latium began cultivating vine thanks to the previous inhabitants, the Latins that (as confirmed by Pliny the Elder) learned refined agricultural techniques from Etruscan populations.
Vines
The need to supply the Roman market 'anyway' has favoured the cultivation of vines characterized most of all by robustness and productivity, to the detriment of finesse. That is why, in terms of white grapes, the region is dominated by varius species of Trebbiano and Malvasia, along with a few autochthonous or local varieties, such as Cacchione and Bombino in the area of Castelli Romani (hillside group of towns beginning along Via Appia) and Grechetto around Viterbo.
Likewise, the regional production of red wines is focused on sturdy species of vine, like Casanese, Sangiovese, Montepulciano, Merlot and Ciliegiolo.
But things are changing everywhere and, if interested, you will be able to to taste some interesting wine experimentations, made most of all around less blazoned zones, like Aprilia and Cerveteri, willing to make up for the lack of 'name' and brand with innovation.
DOC Wines
Two historical brands which have gone through emblematic vicissitudes, extremely fascinating and transcending the intrinsic product's quality.
Est! Est!! Est!!! di Montefiascone (made from trebbiano and malvasia grapes; pretty low-key semi-sweet wine with a small amount of effervescence and mild, fruity flavours) is one of the few ancient wines with a certain date of birth: the year 1100. Until that time the wines produced between Lake Bolsena and Montefiascone were much appreciated by the locals, extolled by wayfarers, but absent from interregional and international trade. In 1100 the Emperor Henry V moved to Rome, in the lead of a powerful army, in order to clear some controversies with the Pope. The bishop Johannes Defuk was in his wake, but willing to fully enjoy the tourist and Dionysian advantages of the expedition instead of the political ones. The bishop was followed everywhere by his personal cup-bearer, Martino, who had to identify the taverns offering good wine, writing onto the wall "est" (which means "there is"). In Montefiascone Martino wrote it three times enthusiastically. That day born the fame and glory of Est! Est!! Est!!!, so that the bishop, totally enraptured by that suavity, stayed there three days more and decided to move in Montefiascone forever. He was buried into the lovely temple of St Flaviano, beginning the custom the pour onto his grave stone an entire barrel of wine.
Frascati
Worldwide famous symbol of Roman wines, fruity, golden white wine that can be dry or sweet produced in Frascati, Grottaferrata and Monte Porzio Catone,the hills around Rome. It probably is one of the most renowned, celebrated and mythicized wines of the world. The list of mentions and praises in the Italian literature about it is just incredible! Frascati wine has the great merit to have changed for the better customs and traditions of a marvellous city, fascinating and involving anyone coming to visit. The famous 'osterias' (in 1450 were already 1022) were owned by wine producers from Frascati, who entrusted some locals for their management, creating a sort of modern franchising. This commercial foresight has maybe caused this wine 'limits': Frascati is indeed appreciated and spread anywhere, but consumers try it more because of an emotional boost than to really enjoy its qualities.
Been there? Done that? Share your experience and tips!
Haven't visited yet? Have questions? Ask them here!