Starting the Day the Italian Way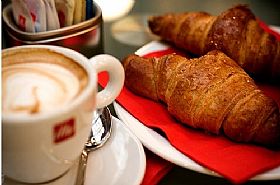 Forget bacon and eggs. Leave expectations of pancakes and waffles at passport control. The Italian breakfast is much lighter, some may say meager, than what you might be accustomed to consuming.
We tend to take a small bite for breakfast and concentrate our culinary energies on pranzo (lunch). That's not to say an Italian breakfast isn't yummy, though. Our pastry shops, called pasticcerias, turn out tasty treats like cornetti (croissants) which are offered in a variety of variations, such as plain, whole wheat, filled with jam, stuffed with rich pastry cream, or slathered with Nutella. (Chocolate for breakfast! You gotta love Italy!)
Fruit-filled crostata, wholesome breads or grain-rich muesli are also common breakfast foods. Regardless of which treat you choose, richly-brewed coffee drinks are served alongside to wake you up and start the day off with a tasteful jolt. Fresh-squeezed juice (spremuta) is always available, too.
Of course, part of the joy of a vacation rental is the availability of a kitchen, so if your day just doesn't seem to start off right without a heaping helping of pancetta affumicata e uova (bacon and eggs), you can still indulge in comfort. Supplies can be purchased at a supermarket or alimentari (deli shop).
Been there? Done that? Share your experience and tips!
Haven't visited yet? Have questions? Ask them here!