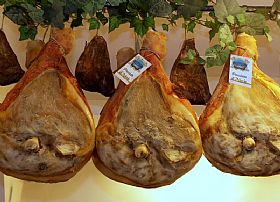 Prosciutto di Norcia is a cured prosciutto crudo, produced in the mountains of eastern Umbria. Specifically in Norcia, but the designation includes the towns of Cascia, Monteleone di Spoleto, Poggiodomo, and Preci, as well, all at an altitude of at least 500 meters above sea level. Prosciutto di Norcia have specifications on the type, breed and size of the pigs, and excludes boars and sows from the select designation.The process of curing involves a double salting and traditional washing, drying and final greasing of the thigh. When sliced, Prosciutto di Norcia IGP displays a color from pink to red.
The aroma is slightly spicy, the flavor is intense, but not salty. The aging - at least 12 months - contributes greatly to the characteristics of the final product and takes advantage of the special climatic zone of these mountains. Combined with a full-bodied red wine, Prosciutto di Norcia IGP should be served cut - possibly by hand - into thin slices and serve with goat cheese, celery, green olives, and of course, with some excellent local bread.
An interesting side note: Norcia is so famous for its charcuterie production (including salami as well as prosciutto) that stores selling such products used to be called "Norcineria" around Italy!
Been there? Done that? Share your experience and tips!
Haven't visited yet? Have questions? Ask them here!