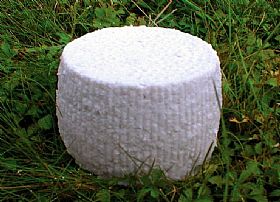 Cacioricotta is a soft cheese typical of the Cilento National Park. It is found only in the southern regions, but the cacioricotta from the Cilento is something special. It is made from a mix of sheep and goat milk and obtains its unique flavor and aroma thanks to the native brush and vegetation that the free-range animals feed on. Some versions are made from just goat milk, a stronger taste. The cheese is highly prized, not only by local but by chefs around the world. It can be eaten plain, or used in both savory and sweet dishes.
Its name is derived from its "hybrid" character - it is both cheese (cacio) and ricotta, which means "recooked," a soft creamy cheese obtained by re-boiling the whey that is leftover from other cheese making production. The dual character makes a creamy cheese that is salt-dried in basket-shaped containers for eight to ten days. It is harder than regular ricotta, but not as firm as a normal cheese.
In some places, cacioricotta is grated onto pasta dishes instead of parmesan or pecorino, giving it more of a "zing". It's great on tomato-dishes or mushroom sauced pasta!
Been there? Done that? Share your experience and tips!
Haven't visited yet? Have questions? Ask them here!