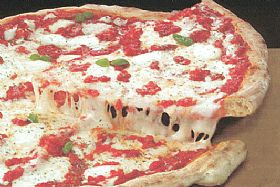 Italy is known for its fabulous cuisine, and pizza is probably the item most beloved world-wide. The whole planet is pazzo for pizza! While you've likely eaten many variations of the national dish, wait until you taste the real deal… you won't believe your tastebuds!
The best pizza comes from a wood-burning oven. Because it takes hours of stoking to get the forno to the proper temperature, many pizzerias are open only in the evening for dinner. Pizza from these ovens are generally plate-sized and thin-crusted. They cook in minutes and arrive piping-hot with melty cheese oozing and steaming.
Though thin crust is the norm, it comes in different forms depending on geographic area. In Rome and many other areas the crust is wafer-thin and gets crispy when it cooks. In Naples and the Campania area in general the famed Neapolitan pizza boasts a thicker, yeastier crust with a cornicione, a raised 'frame' around it. Neapolitans are considered the master pizzaiuoli and have transported their version of pizza around the country and around the world. It is especially delicious when topped with mozzarella di bufala.
If you are craving pizza for lunch, don't be disheartened. While many traditional pizzerias only serve dinner, there are handy shops called pizza al taglio, or pizza by the slice. These broom closet-sized stores churn out Italy's best version of fast food, either in thick-crusted rectangles or thinner rotund pies, baked with a variety of toppings to choose from. You pick your fancy and they'll reheat the slice, wrap it in paper, and you'll have a timely snack or lunch on the go. Most have only a counter where you order, but a few such shops offer stools or a couple of bistro-type tables.
Give it a try. We guarantee by the end of your trip you, too, will be pazzo for pizza!
Been there? Done that? Share your experience and tips!
Haven't visited yet? Have questions? Ask them here!